Lana Del Reys Style Evolution, From California Pop Star to Bewitching Songstress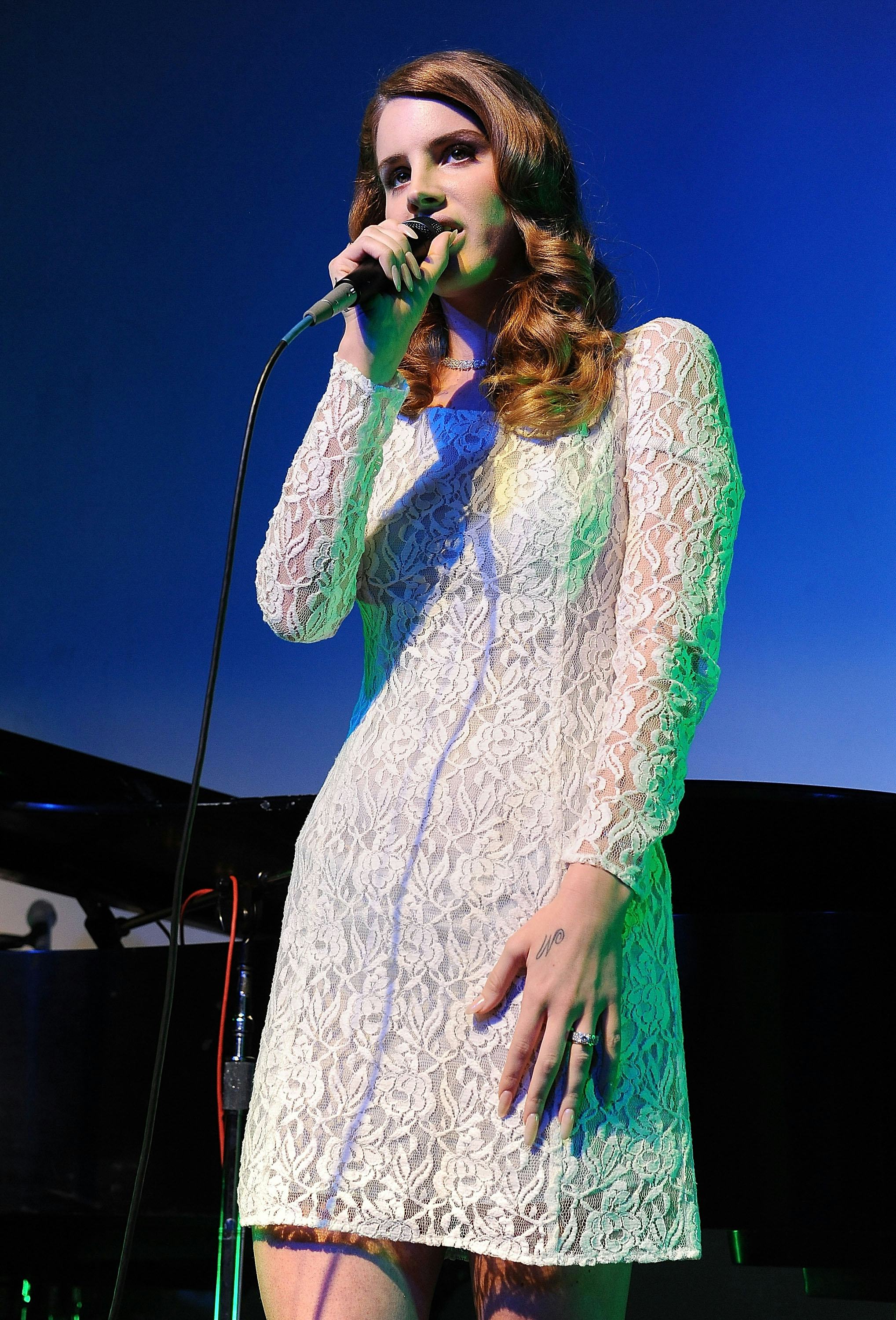 Since her breakout year in 2011, Lana Del Rey has been always been something of a contradiction, in both subversive musical influences and contrasting sartorial choices. The singer, who was born Lizzy Grant, used to identify as a "Gangsta Nancy Sinatra," but she's more of a cross between sultry, glamorous Priscilla Presley and casual California cool girl. That combination of retro-chic and present-day typically manifests in '60-style bouffants, nude lips, cat eyes, and furs, or a plain ole white tee and jeans worn bare-faced. Much like her homemade music videos that first made waves, Del Rey ensembles riff on classic Americana and excess. Deeply glamorous, thoroughly heartfelt, and just a little bit pouty—that's Lana Del Rey. Celebrate her 36th birthday by revisiting her many style incarnations over the years, here.
Del Rey paired a leather biker jacket with Prabal Gurung—and a lilac-colored Blackberry—for an appearance to collect the "Next Big Thing" Q Award.
Del Rey matched the flowers on her saffron-colored shift dress with a real rose in her hair for a day out in Paris.
Del Rey juxtaposed her ethereal pastel pink gown with a belt buckle shaped like a gremlin while performing at a dinner for Mulberry.
Del Rey showcased her approach to day-to-night dressing while dropping by the Late Show With David Letterman.
Del Rey could have been any ole Amoeba Music employee before performing her debut album, Born to Die, at the beloved record store.
Later that month, Del Rey proved she had the range in a scarlet gown at the 2012 BRIT Awards.
Did we mention she has the range? Look no further than the fur and Chucks she wore to a sustainability-focused evening hosted by UCLA.
Del Rey showcased her new vampy aesthetic in a floor-length Altuzarra gown at her first Met Gala.
Del Rey made a statement backstage at the Isle Of Wight music festival in a camo jacket and the first of many beehives.
A newly raven-haired Del Rey stuck to monochrome while in London for GQ's Men of the Year Awards.
Del Rey's rare pantsuit appearance at a 2013 Golden Globes after-party was all about volume.
Del Rey made her first major front-row appearance in head-to-toe Versace at the house's fall 2013 show in Milan.
Del Rey took a break from big brands to rep the designer Lena Hoschek at the Cannes Film Festival premiere of The Great Gatsby.
Rather than her later Americana aesthetic, Del Rey went biker-girl chic while celebrating Nylon magazine's America-themed issue.
Del Rey packed two V-neck floral baby dresses for her 2014 gigs at Coachella.
Del Rey made a statement in a canary yellow gown while performing at an amfAR gala in Cap d'Antibes, France.
Del Rey continued to embrace the jubilant musical festival spirit while performing at Glastonbury.
Del Rey took a break from her usual day-off ensemble—a white tee and jeans—while roaming through New York's Soho.
Del Rey channeled a mermaid in a pleated turquoise gown by Decades at the 2015 Golden Globes.
Del Rey lit it up onstage at the Sasquatch! music festival while experimenting with a statement silhouette.
Del Rey attended the 2015 Breakthrough Prize Ceremony in a floral tiered frock.
Del Rey carried the goth vibes over to Billboard's 10th annual Women in Music Awards in New York.
Del Rey went nautical at a gala for the charity group Help Haiti Home.
Del Rey was a shimmery vision in a gown with cap sleeves at Vanity Fair's 2016 Oscars Party.
Del Rey kept it relatively casual in the hours before the 2016 Grammy Awards at a pre-ceremony gala.
Del Rey was sure to show off the slit of her floral Monique Lhuillier caftan at the 2016 BRIT Awards.
Del Rey proved she wasn't finished with dramatic hair changes just yet when she showcased her airport style at LAX.
Del Rey embraced her status as an Alessandro Michele muse while at MoMA PS1 in Queens, New York for a fragrance launch.
And so began Del Rey's current Gucci era, at the 2017 MTV EMAs in London.
The Gucci halo Del Rey wore to the 2018 Grammy Awards turned out to be a hint at her Met Gala ensemble in the coming months.
Del Rey joined Rihanna in full-on embracing the 2018 Met Gala's "Heavenly Bodies: Fashion & The Catholic Imagination" theme.
Again in Gucci, Del Rey channeled a bit of Madonna at the 2018 LACMA Art + Film Gala.
Del Rey looked a ways away from her goth-inspired days while performing in San Diego, wearing a lacy babydoll dress.
Del Rey returned an old favorite—a floor-length cape—for yet another Gucci appearance the 2018 Fashion Awards.
Del Rey tapped Redemption to craft the custom asymmetrical gown she wore to 2020's pre-Grammy Awards gala.
In another sudden departure from Gucci, Del Rey stepped out at the 2020 Grammy Awards in an Aidan Mattox dress she bought at the mall.
Source: Read Full Article