Ben Affleck Breaks Down in Tears During Romantic Dinner With Jennifer Lopez in Paris
The newlyweds appear to have an emotional moment as the 'Wedding Planner' star consoles her crying husband during private meal at La Girafe on her 53rd birthday.
AceShowbiz –Ben Affleck and Jennifer Lopez continue to make memories on their honeymoon and they appear to have shared a tender moment during their recent romantic dinner. The actor was caught breaking down in tears while having private meal over the weekend.
On Sunday, July 24, the pair were pictured having dinner at a place called La Girafe in front of the Eiffel. At one point during the outing, which also took place on Jen's 53rd birthday, Ben was seen crying while his new wife consoled him.
It's unclear why Ben was crying. One of the pictures obtained by TMZ shows J.Lo embracing her emotional husband in a hug and putting her hand on his face. They were later seen in a better mood when a man, probably a waitress at the restaurant, presented J.Lo with a birthday cake.
Ben and Jen were not seen being joined by their kids, who have been tagging along with them on the Paris trip. The pair were later seen having a little stroll around town, during which they held hands and flashed a smile.
For the outing, Ben looked dapper in a black jacket on top of a white shirt and black pants. As for J.Lo, she looked stunning in a black sleeveless dress that perfectly hugged her curves while accessorizing with a pearl necklace.
On Monday, they continued their tour of the city by visiting Louvre Museum with their kids, Ben's daughters Violet and Seraphina as well as J.Lo's twins Max and Emme. In photos which have circulated online, they looked relaxed as they were holding hands.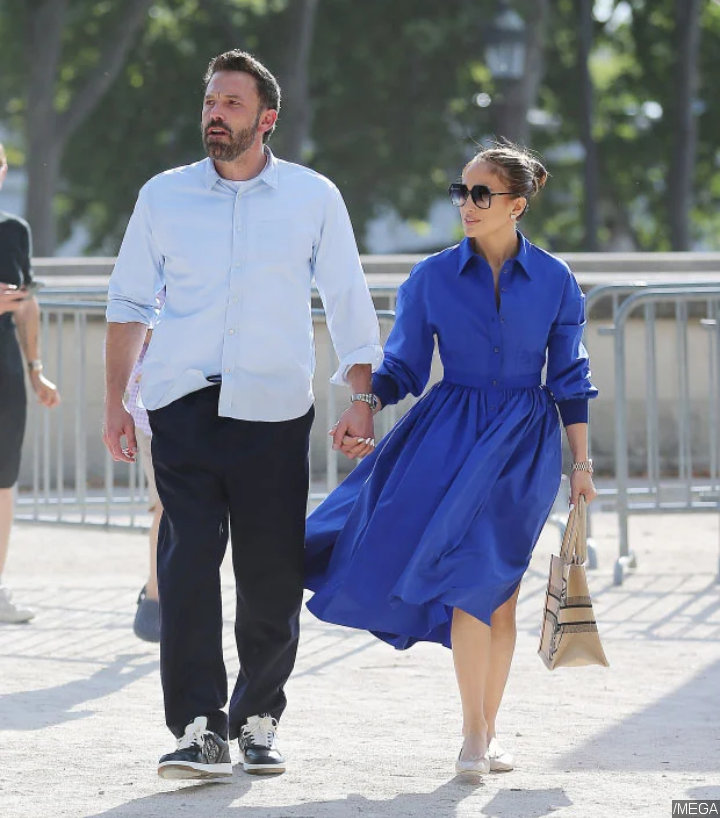 Ben Affleck and Jennifer Lopez visited Louvre Museum in Paris.
Ben opted for a casual look in a light blue button-down shirt with under tee, dark pants and sneakers. J.Lo, meanwhile, wore a breezy royal blue dress with a collar and gathered waist teamed with beige shoes. She also carried a matching handbag.
Source: Read Full Article