Inside Joyce Mitchells Relationship With Richard Matt And David Sweat
While the name "Joyce Mitchell" might not have been one known to the general public until a few years ago, when Mitchell was convicted after pleading guilty in 2015 for assisting convicted murderers Richard Matt and David Sweat escape from the Clinton Correctional Facility in upstate New York, it certainly became so three years later. Mitchell, who went by the nickname "Tilly," was immortalized in the 2018 Showtime limited series "Escape at Dannemora," which told the story of the events before, during, and after Matt and Sweat, with Mitchell's help, made their break from prison, resulting in a three-week manhunt. (Mitchell was portrayed by Patricia Arquette, who won a Golden Globe in 2019 for the role.) 
While Mitchell has expressed disdain over the miniseries, which she decried, per a 2018 article published by the New York Post, as inaccurate and an effort to "make millions" from her story, it also renewed attention in the prison break that both put her behind bars and made her infamous. Central to the story of Mitchell herself is the relationships she allegedly had with the inmates she aided and abetted. 
And once again, fascination in Mitchell has been renewed after she was released from her own stint in jail as a parolee in February 2020. So what exactly happened between Mitchell, Sweat, and Matt? Scroll on to find out the details.
Joyce Mitchell's relationship with Richard Matt and David Sweat was complicated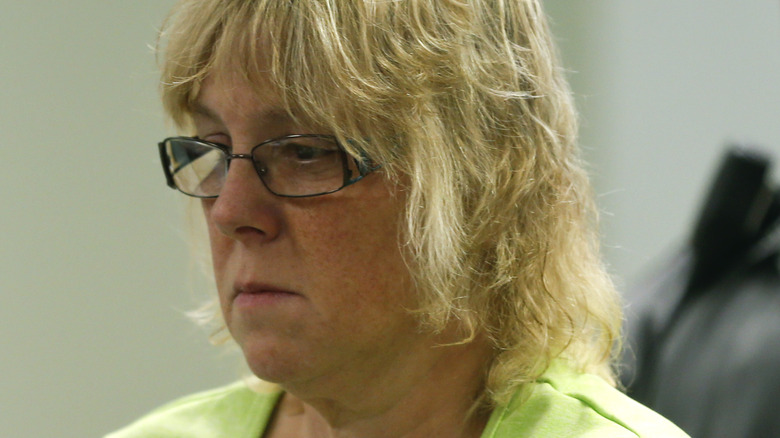 In 2015, Joyce Mitchell was in a personal rut. Her years-long marriage to her husband, Lyle, was stable, but her life was monotonous, devoid of eventful punctuation. But Mitchell — who was employed as a seamstress at the Clinton Correctional Facility, located near the town of Dannemora in upstate New York — soon discovered the thrills she had so longed for after meeting inmates (and convicted murderers) Richard Matt and David Sweat. 
Unfortunately for Mitchell, the nature of her relationships with both inmates made her story rife with sensationalism and media frenzy.
As NBC News reported in 2015, Mitchell became enamored, if not infatuated, with Sweat and Matt after becoming acquainted with them through her work at Clinton Correctional. Per NBC, her bond with Matt became stronger after she fulfilled a number of seemingly innocent requests on his behalf, among which included calling his daughter for him in return for a commissioned painting. She and Matt, according to documents obtained by the network, started a physical relationship soon after.
Joyce Mitchell's fantasies helped propel a grim reality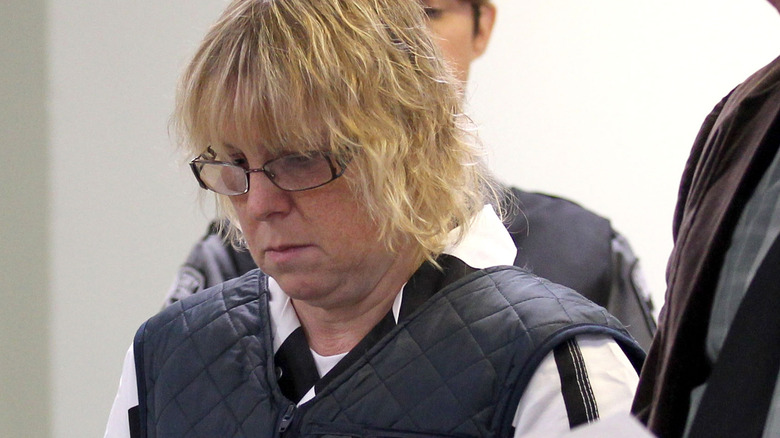 Despite the physical relationship Joyce Mitchell carried on with Richard Matt, it seems that David Sweat was the focus of her romantic daydreams. According to Oxygen, it was Sweat, not Matt, who first met Mitchell after he was assigned to work in the same tailor shop she worked in as an employee. 
Though by all appearances she and the convicted killer never had a sexual relationship, they were purportedly too close for comfort — enough so that Sweat was reassigned to another work area. It was only after Sweat was removed that Matt took his place to a more extreme and discomfiting degree. As one report by ABC News put in quoting the New York inspector general who investigated the case, "she professed her love for Sweat in notes she secretly sent him … [while engaging] in numerous sexual encounters with Matt in the tailor shop." 
In a confession Mitchell later gave to law enforcement, the demi-triad helped spur Mitchell into acquiring and passing on items at the request of Matt, among which included "padded gloves, glasses with lights on them, a screwdriver-type bit and … hacksaw blades," per NBC. Later, Matt disclosed his and Sweat's prison break plan. "I believe I helped Inmate Matt and Inmate Sweat escape because I was caught up in the fantasy," Mitchell later said (via ABC News). "I enjoyed the attention, the feeling both of them gave me and the thought of a different life."
Joyce Mitchell aided and abetted two convicted killers
Ultimately, Joyce Mitchell's help in supplying tools for Clinton inmates Richard Matt and David Sweat soon came to their predictable conclusion, but were wrapped in layer upon layer of fantastically murderous dreamscapes for the prison employee. As NBC noted in its coverage of the manhunt and ensuing court proceedings, the prison break plan helmed by Sweat and Matt eventually included its own subplot: the murder of Lyle, Mitchell's husband, which would have purportedly taken place on the day of the event. 
"Matt told me they were getting out and we were all going to be together," Mitchell confessed days before Sweat and Matt were apprehended 22 days after they escaped on June 6, 2015. Per NBC, Matt relayed he would have two pills, already procured, which Mitchell would secretly drug her husband with, rendering him unconscious. "After Lyle was asleep, I was supposed to drive to Dannemora and meet them by the powerhouse," Mitchell continued, where she would meet Matt and Sweat, along with accouterments like "clothes," a "gun," and "tents," and all three would proceed to return to Mitchell's house, where her husband would then be murdered by Matt. 
In the end, Mitchell was unable to bring herself to complete the last leg of their plan. Less than three weeks later, Sweat and Matt were finally apprehended — an encounter which ended in Matt's death by law enforcement and Sweat's capture and subsequent reincarceration after both had parted ways.
Source: Read Full Article