Jordan Peele Reassures John Boyega That He Will Still Have a Career After Speaking at a Black Lives Matter Protest
On June 3, John Boyega took part in a Black Lives Matter protest at London's Hyde Park. The actor gave a moving speech while fighting back tears, and he acknowledged that he did not know if he would "have a career" after taking part in the protest. On Twitter, director Jordan Peele supported Boyega and reassured him that he will still have a career going forward.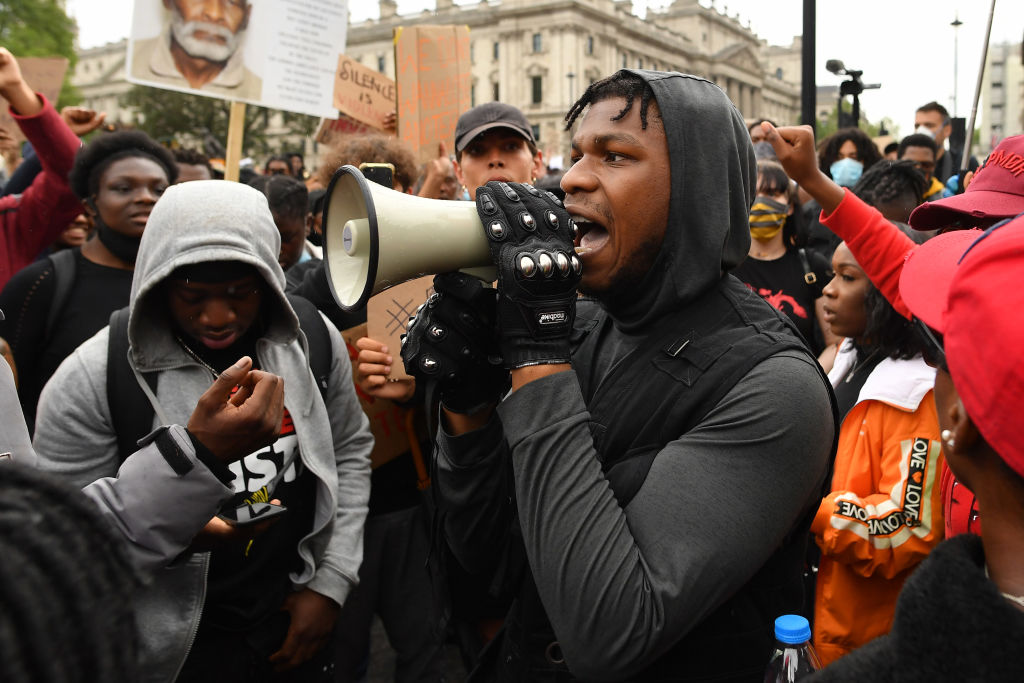 John Boyega gave a rousing speech at the Black Lives Matter protest
At the in-person protest, Boyega gave an impassioned speech to the demonstrators present.
"Black lives have always mattered. We have always been important. We have always meant something. We have always succeeded regardless. And now is the time. I ain't waiting…," Boyega said in his speech. "We are a physical representation of our support for George Floyd. We are a physical representation of our support for Sandra Bland. We are a physical representation of our support for Trayvon Martin. We are a physical representation of our support for Stephen Lawrence."
While fighting back tears, Boyega told demonstrators he was "speaking from" his heart, and his speech earned him even more acclaim from the general public.
RELATED: 'I Said What I Said': John Boyega Is Calling out People on Twitter and the Internet Is Here for It
"I'm speaking to you from my heart… Look, I don't know if I'm going to have a career after this, but f*ck that… Today is about innocent people who were halfway through their process," he said. "We don't know what George Floyd could have achieved, we don't know what Sandra Bland could have achieved, but today we're going to make sure that won't be an alien thought to our young ones."
Jordan Peele reassured the actor
After the protest, quotes from Boyega's speech spread throughout social media. When a Twitter account shared Boyega's quote about possibly not having a future career, Peele responded.
"We got you, John," he tweeted.
Peele is an actor, producer and director known for his work on the sketch comedy series Key & Peele and the movies Get Out, Us, and BlacKkKlansman. Get Out was Peele's first movie as a solo director, and the film not only received critical acclaim, but Peele won an Academy Award for Best Original Screenplay.
Based on his tweet about Boyega, it seems that down the line Boyega could appear in a movie directed by Peele. Given both of their talents, a collaboration between Boyega and Peele would no doubt please audiences.
John Boyega has been outspoken on social media
Before attending an in-person protest, Boyega earned praise by advocating for the Black Lives Matter movement on social media. After George Floyd, an unarmed black man died in police custody, Boyega tweeted about his hatred of racists and condemned racism in an Instagram Live.
"This just burns. Seems to be a never ending cycle. The murderers need to be charged severely. Even in the face of death this man was given zero empathy. #RIPGeorgeFloyd#BlackLivesMatter#JusticeForGeorgeFloyd," Boyega tweeted.
In another tweet, he added, "I really f*cking hate racists."
Before his impassioned speech at Hyde Park, Boyega gave a speech about white on black racism on Instagram Live.
"There's no way that I have the opinion that there's no other forms of racism. Of course there's other forms of racism. But a black man was just murdered in cold blood in the street Stateside again, while saying he can't breathe. That's a continuous cycle going on. Although I don't live in the States, I'm black," he said.
Source: Read Full Article