'KUWTK': Some Fans Urged Scott Disick to 'Go to Therapy' to Deal With His Insecurities
Several years ago, Scott Disick appeared to have it all. He was in a relationship with one of the world's most beautiful, and rich, women, Kourtney Kardashian. They had a lovely family, and a huge home. However, like many of us, Disick seems prone to self- sabotage. His mistakes cost him a lot. And although he seems to be doing better now, fans will probably always worry about him. In fact, a recent video had some viewers calling for Disick to attend therapy.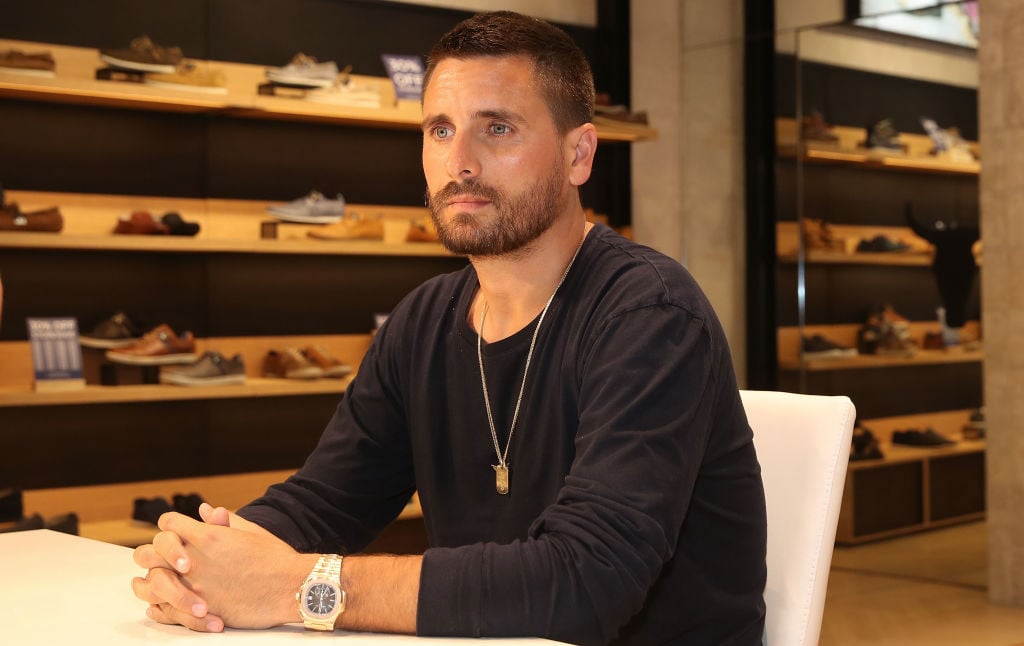 Fans believe Scott Disick needs therapy for deep insecurities
The issue of Disick's well-being came up after Keeping Up With the Kardashians posted a promo video showing him practicing for a public speech. He invited Kim Kardashian West over to help, but as he ran through the introduction, Disick seemed extremely nervous. Kim tried to help by giving him pointers. However, this only made it worse. 
"This is starting to stress me out even more," Disick said. "… I can't do anymore. I'm starting to get more stressed. You're too big for me. I should have had someone less famous over."
The interaction was posted on Reddit, and the discussion that followed revealed just how little faith fans have in Disick.
"Scott suffers from deep, deep insecurity. He needs to go to therapy to build up a healthy level of self-esteem," one fan wrote.
Others jumped in to defend Disick. "Public speaking is a nearly universal fear," a fan wrote in response. But it did little to convince those who believe therapy is the answer.
"I agree 100%. But the man can't do anything without crippling fear of judgment. Remember the time he wanted to learn to race cars, but gave up before he even started due to anxiety?" The viewer responded.
Scott Disick has struggled for years
A little anxiety over public speaking isn't Disick's only challenge. The father of three has struggled with drug addiction for years. His hard partying was one of the main issues that drove him and Kourtney apart. 
Even Disick's former manager, David Weintraub confirmed that he has a problem, telling Life & Style that "Scott is a cokehead."
The fans on Reddit were specifically discussing Disick's self-esteem problem, not his drug addiction. But studies show that low self-esteem plays "a meaningful role" in a person's tendency toward addiction. So, it's likely that Disick's drug addiction actually stems from his low self-image. 
However, Disick has actually attended therapy before. He's actually tried therapy and drug treatment multiple times, but he's had a hard time completing the program. Disick tends to leave before his treatment is finished. In recent years though, Disick has been doing much better. He seems to be staying away from drugs, alcohol, and partying altogether.
In fact, according to reports, last year on Sofia Richie's 21st birthday, Disick was able to remain sober through his girlfriend's party. Reportedly, he quietly supported her from the sidelines, instead of partaking in shots with Richie and the rest of the group. He's also made strides in his career, and in his relationship with Kourtney. It really seems that Disick has been doing much better recently. 
Does Scott Disick need therapy?
From the outside, it seems that Disick has made some massive changes recently. He doesn't appear to be partying, and his life has improved. However, he could still be suffering from low self-esteem, especially if he never finished his rehabilitation programs. Without really digging into his self-image and making the appropriate changes, Disick will always be at risk of a relapse.
However, no one really knows what's going on inside Disick's head beside him. It's possible that he has made improvements to his self-esteem. After all, he calls himself "Lord." Just because he appeared nervous on camera, which as one fan pointed out, is a very normal thing, doesn't mean that he truly has trouble with confidence. 
The only person that knows for sure if he needs therapy, is Disick himself. 
Source: Read Full Article