Meghan Markle Reportedly Hinted That She's Ready to Have Another Baby With Prince Harry
Meghan Markle and Prince Harry welcomed baby Archie Harrison nearly a year ago on May 6, and Meghan is reportedly ready to have another child!
According to an anonymous source, who The Daily Mail claimed is one of Meghan's friends, Meghan hinted at having a second kid with Harry during one of their recent conversations. The friend said, "She joked that he needs a pint-size little buddy other than the dogs. Meghan lit up when she spoke about Archie. She said he's a bundle of energy and prefers playing over sleeping."
Obviously this is second-hand information and Meghan hasn't confirmed anything, but it matches up with previous reports that the couple is "committed to having another baby" and will be " trying in earnest pretty soon."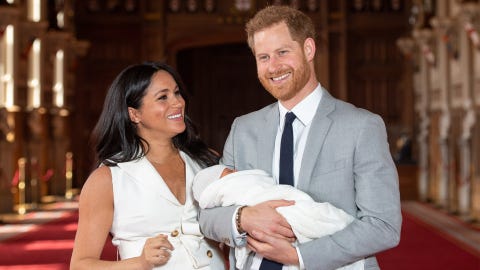 But before royal fans get too excited and start googling what this kiddo's title would be—if they even get a title now—know that Harry recently joked that one baby "is enough" right now. That said, Marie Claire pointed out that he could just be trying to throw off the tabloids in order to protect his family's privacy, so who really knows!
If they do decide to have another baby, this one would fall behind Archie and be eighth in the royal order of succession. In the meantime, Meghan and Harry are enjoying these formative days with Archie and are taking some much-needed time away from the spotlight, focusing on their family and helping those most impacted by the coronavirus pandemic.
Source: Read Full Article