Stacey Dash Apologizes for 'Mistakes' as Political Commentator
"I've lived my life being angry, which is what I was on Fox News," former actress says
Fox News
Dash voiced her support for Mitt Romney in the 2012 presidential election with a photo of herself wearing a red swimsuit in front of an American flag.
Twitter
Fox News contributor Stacey Dash took aim at Beyonce and Jay-Z on Twitter over their trip to Cuba in 2013 to celebrate their anniversary.
Getty Images
During a Fox News appearance on "Hannity" in 2014, Dash argued that Barack Obama and Obamacare weren't helping minorities.
Fox News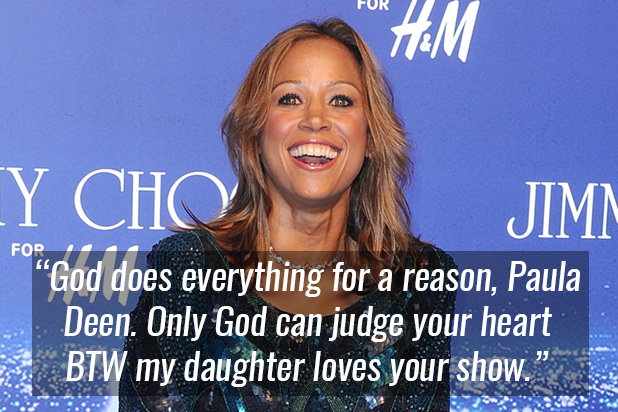 When Paula Deen was embroiled in controversy over her use of the N-word in 2013, Dash came to her defense on Twitter, saying "Only God can judge your heart."
Getty Images
Patricia Arquette earned plenty of praise for her call for gender pay equality at the Oscars in 2015, but Dash was not impressed, saying she was "appalled" by the "Boyhood" star's speech.
Also read: Fox News' Stacey Dash 'Appalled' by Patricia Arquette's Pay-Equity Oscar Speech
Getty Images
In 2015, Dash spoke up about the gender pay gap with some advice for women: "Be a better negotiator."
Also read: Fox News' Stacey Dash on Hollywood Gender Pay Gap: 'Be a Better Negotiator' (Video)
Getty Images
Dash earned herself a two-week suspension when she said Barack Obama didn't "give a shit" about terrorism on air.
Also read: Fox News Suspends Contributors for Anti-Obama Profanity (Video)
Fox News
Weighing in on the #OscarsSoWhite controversy in 2016, Dash called for an end to BET, the NAACP Image Awards and Black History Month.
Also read: Stacey Dash on Oscars Diversity Backlash: 'There Shouldn't Be a Black History Month' (Video)
Fox News
Dash blasted media mogul Oprah Winfrey on Twitter for comparing the death of Trayvon Martin to the 1955 murder of Emmett Till. Quoting Malcolm X, she wrote, "If You aren't careful, The newspapers will have you hating the people who are being oppressed And loving the people who are doing the oppressing."
Getty Images
The actress and former Fox News contributor was arrested in Florida and accused of domestic battery
Source: Read Full Article