The Untold Truth Of Sasha Pieterse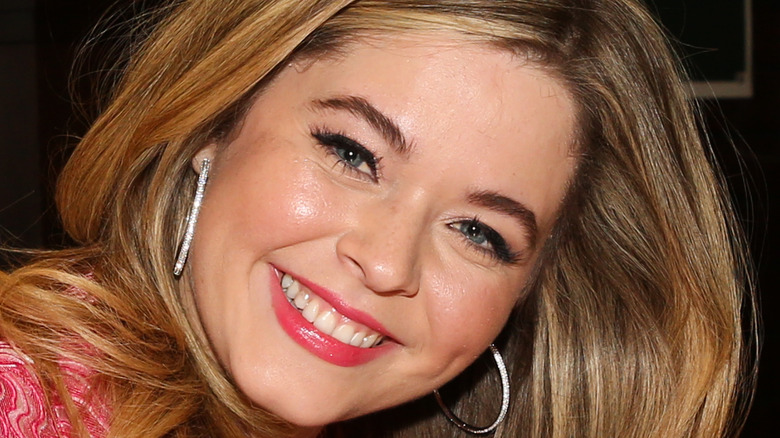 Sasha Pieterse made her acting debut in 2002 in the TV series "Family Affair" (via IMDb), but the role that made her famous arrived when she was cast as Alison DiLaurentis in the popular teen mystery "Pretty Little Liars."
Pieterse was born in Johannesburg, South Africa in 1996 (via Seventeen) and raised in Las Vegas before moving to Los Angeles. Her parents were in show business, so it's no surprise that Pieterse is a natural at her craft. She shined as Ali, the mean girl who was buried in Season 1 and then (psych!) was revealed to be alive halfway through the series. At a young age — Pieterse is nearly a decade younger than some of the actors who play her classmates — she managed to make Ali a multilayered character who evolved throughout the series. We didn't always trust her, but she always kept us guessing and Pieterse captured Ali's mysterious air perfectly.
Audiences weren't the only ones who loved Pieterse's performance on "Pretty Little Liars." Casting directors noticed, too, and she went on to star alongside some of Hollywood's most respected actors like Benicio del Torro and Joaquin Phoenix in Paul Thomas Anderson's film "Inherent Vice."
Here's the low-down on Sasha Pieterse — from how she graduated high school at age 14 to how she handled online bullying and body-shaming.
Sasha Pieterse initially auditioned to play Hanna on "Pretty Little Liars"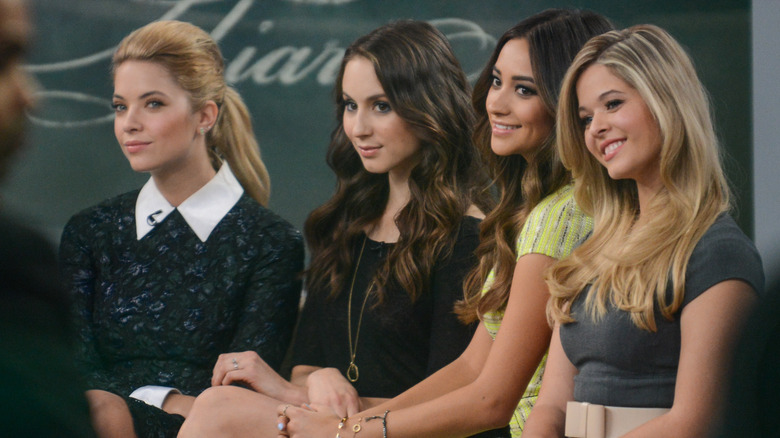 It's hard to imagine Pieterse playing anyone other than Ali, and Ashley Benson is equally amazing as Hanna Marin. But during a 2017 appearance with her castmates at PaleyFest, Pieterse shared that she initially was considered for the role of Hanna, per HuffPost. Pieterse read Hanna'a dialogue in a scene with Janel Parrish (who plays Mona) and she nailed it. You can see for yourself in this clip on Twitter.
Pieterse was taken out of the running for the lead role of Hanna because of her age at the time the pilot was filmed, per CheatSheet. High schoolers are often played by actors and actresses in their 20s, but Pieterse was actually only 12 when filming began. The fact that Pieterse was under 16 limited the number of hours she could work per week.
Because Alison was believed to be dead during the first four seasons of the show, Pieterse was a guest star who appeared in flashbacks, other character's dream sequences, and brief moments when the very-much-alive Ali rushed to her friends' rescue. In Season 5 Alison revealed to the world that she was alive and returned to Rosewood (via Cosmopolitan). At this point Pieterse was old enough to become a main cast member.
Pieterse may have played the queen bee of her friend group, but she was actually the only main character who was under 20 in real life when the show began, per Insider.
Sasha Pieterse graduated high school when she was 14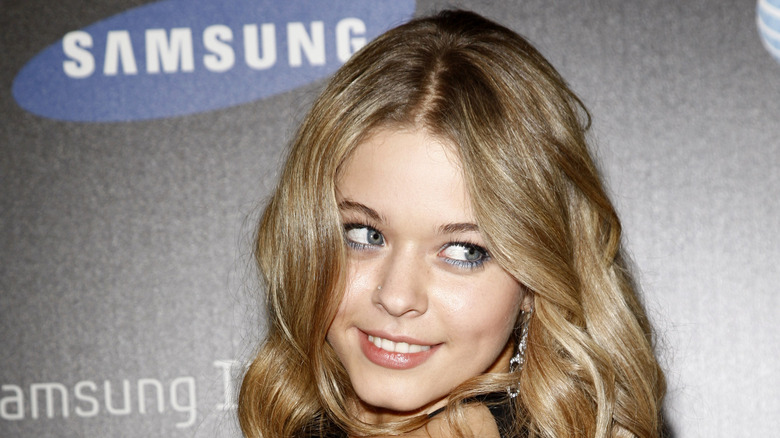 Pieterse more than held her own alongside her much-older castmates, so it's not terribly surprising that she was just 14 years old when she graduated high school. Many child actors and actresses homeschool due to their own careers, but Pieterse was homeschooled because of her parents' jobs, per Seventeen. Both of Pieterse's parents were professional dancers which required them to spend a lot of time traveling, so they chose to homeschool their daughter. As it turned out, Pieterse had impressive showbiz chops herself, so homeschooling worked out well for the entire family.
"My mom was so great. She homeschooled me and I graduated when I was 14 — it was the best decision that I've ever made. Everyone is different but that worked out so well for me," Pieterse told Untitled Magazine in 2014. "To get that opportunity to finish school and to be able to work as many hours as I need to is great, because in this business you won't get hired often if you're under 18 to play teenager roles because of the hours."
Pieterse also told Untitled that, although her mom was very involved when she was young, she was able to become more independent in her schooling as she got older. "The great part about homeschooling is that, depending on the person, the higher grades you get, the more independent you get. As I got older my mom didn't have to do much work," she explained.
Sasha Pieterse dealt with online bullying due to a medical condition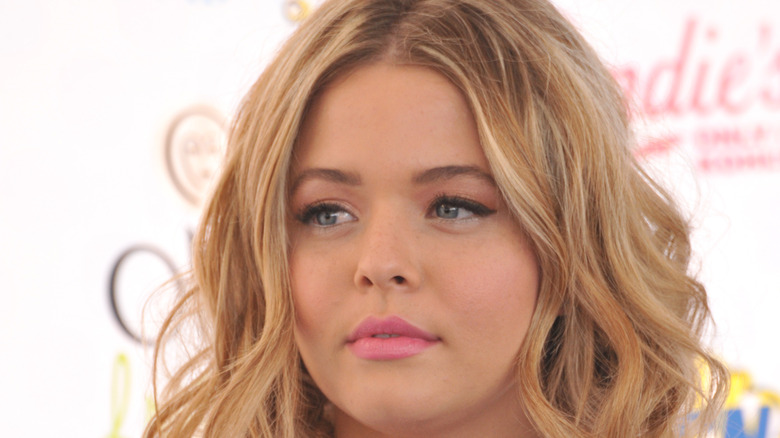 During the seven-year run of "Pretty Little Liars," Pieterse pretty much grew up before our eyes — and unfortunately, when she gained weight due to a medical condition, the actress was subjected to online bullying.
In July 2016, Pieterse issued a powerful statement on Twitter about body shaming. "There was major backlash on social media," Pieterse wrote. "People were actually angry that I had gained weight, I was being (and still am) called names, made fun of, the (unfortunate) usual but it wasn't until people started asking and assuming I was pregnant that I decided to say something." She also shared that she had recently learned she had a "really bad hormone imbalance" and sent an important message to her fans: "Do not lower yourself to people who refuse to go higher."
In 2017, while she was competing on "Dancing With the Stars," Pieterse shared more details about her health. She said that she had "very recently" been diagnosed with polycystic ovary syndrome (PCOS), via Teen Vogue. PCOS can cause weight gain, according to Cleveland Clinic.
"[It was] one of the hardest things I've ever been through," Pieterse said, referencing her 70 pound weight gain over the course of two years. "I had no idea what was going on and I didn't have any way of solving it."
We're glad that Pieterse is getting treatment for PCOS, but no one should ever be subjected to body shaming.
Sasha Pieterse is a published author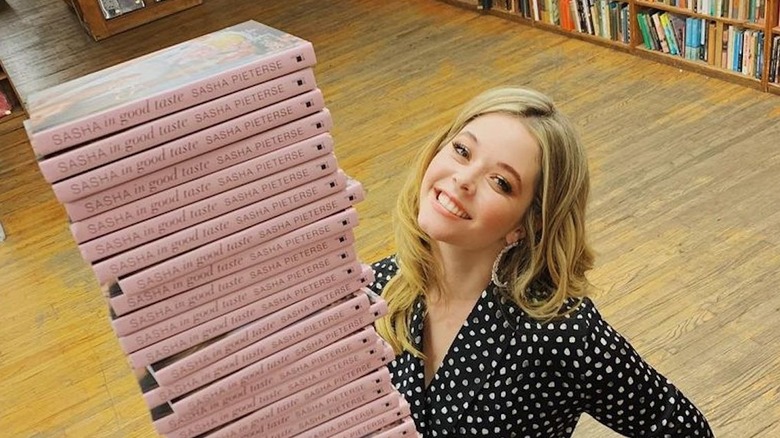 In her free time, Pieterse enjoys cooking, creating her own recipes, and entertaining. "Inviting loved ones into my home and celebrating occasions big and small brings joy into my heart," she told Entertainment Weekly. So it made perfect sense that her first book, titled "Sasha in Good Taste: Recipes for Bites, Feasts, Sips & Celebrations," focused on the topic.
Pieterse's book, which published in 2019, is "an inspiring and delectable full-color guide to cooking, baking, and embracing the joy of entertaining," according to its official description (via HarperCollins).
Pieterse told Entertainment Weekly that her book was six years in the making. She said that she has no formal training and is completely self-taught, and her goal in publishing "Sasha in Good Taste" was to encourage people to give cooking a try.
"When I first started cooking I felt very insecure about the little that I knew and had no confidence in that area," Pieterse explained. "But, when I started getting the hang of the little things I grew to really appreciate and love the process and the outcome."
Pieterse has a lifestyle website that's also called Sasha in Good Taste, which focuses on entertaining and food, as well as a YouTube channel with the same name.
Sasha Pieterse's wedding was straight out of a fairy tale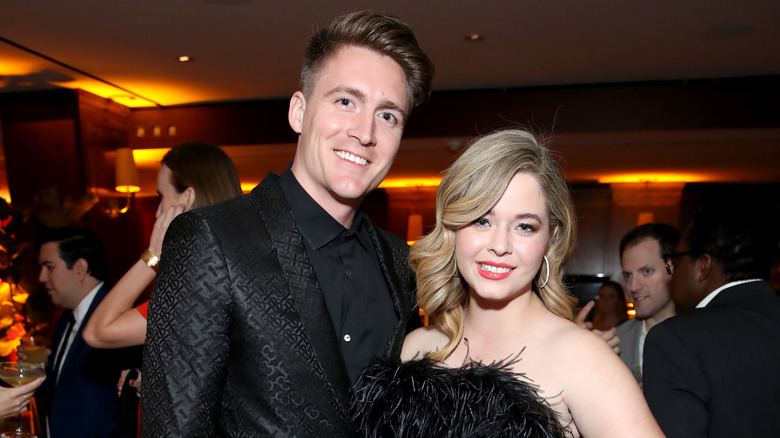 Pieterse announced her engagement to her longtime boyfriend Hudson Sheaffer in 2015 and the couple wed in 2018. The wedding was at an Irish castle called Leslie Estate (via People) and it looked like a true fairy tale. You can see some of the beautiful photos on Pieterse's Instagram page. 
"We had the most magical day in Ireland. Our wedding was beyond our wildest dreams," Pieterse and Sheaffer said in a statement to People after the wedding. Pieterse wore a Christian Siriano gown and jewelry from XIV Karats and Zadig & Voltaire. Per The Independent, the wedding was an intimate affair with just 80 guests. Prior to the wedding, Pieterse said she wanted to keep it small. "I plan to know everybody at my wedding," she said.
Although they played enemies onscreen, Pieterse and her "Pretty Little Liars" co-star Janel Parrish are good friends in real life. She and Sheaffer go on double dates with Parrish and her husband, Chris Long (via Just Jared Jr.).
In November 2020, the couple welcomed their first child. Pieterse shared the exciting news on Instagram with a photo of their adorable baby. "One week ago today our lives changed forever. After 27 hours of labor Hendrix Wade Sheaffer made his grand entrance on November 6th at 5:39am weighing in at 7lbs 14oz and 20.5 inches tall," she wrote in the caption. "We are absolutely in love with him and we still can't believe he's ours."
Source: Read Full Article