Whitney Port Sends Love to Women With Fertility Issues When Recalling Her Second Pregnancy Loss
The 'Hills: New Beginnings' star reflects on her second miscarriage when meeting her sister Jade Port's newborn, considering she should have given birth 'within this week too.'
AceShowbiz –Whitney Port has reflected on her bitter past. When reflecting on her second pregnancy loss, "The Hills: New Beginnings" star went on to send her love to women with fertility issues using a social media post.
The 36-year-old mom took to her Instagram Story on Friday, June 25, and posted a photo of herself holding her new nephew. Reminding fans that she should have had a newborn of her own, she wrote alongside the snap, "Crazy to think I would have had a newborn within this week too."
"[My sister] Jade and I got pregnant at the exact same time last fall (isn't that wild?) and then I miscarried after 8 weeks," she noted. "Sad to really think about it, but I just wanted to say it just to get it out of my head and send everyone who is dealing with some kind of fertility issue a virtual hug."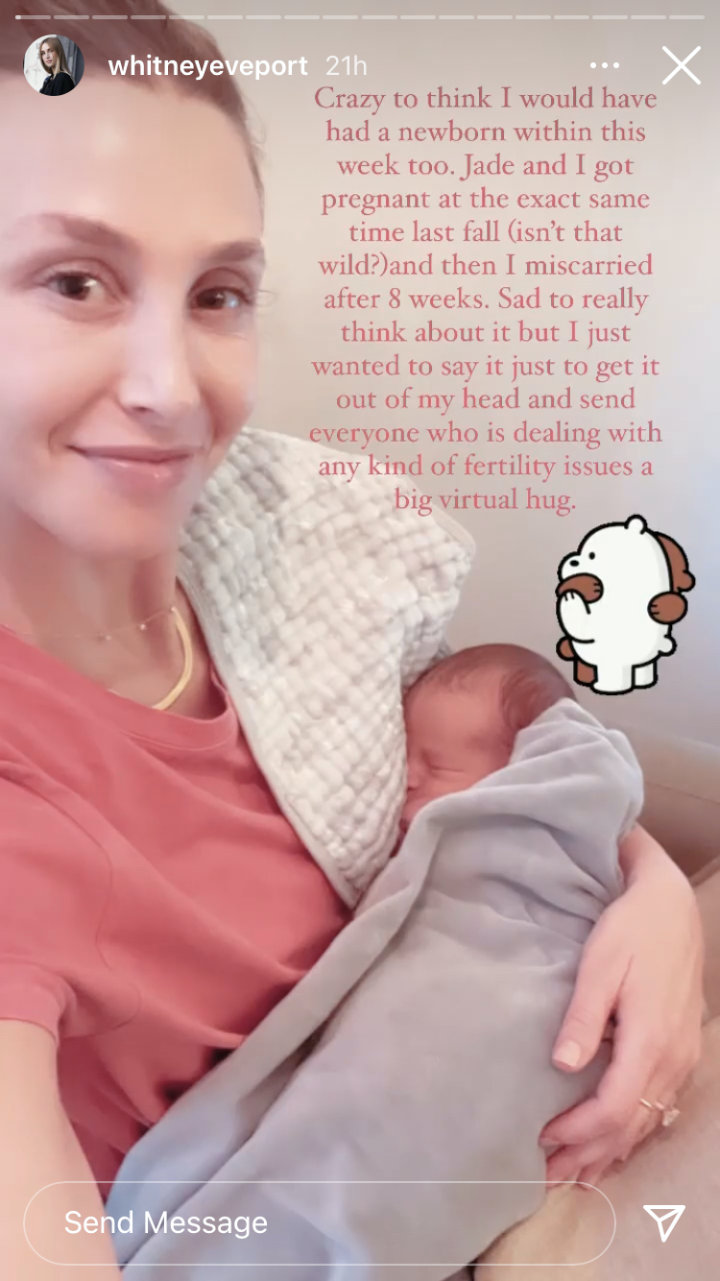 Whitney Port reflected on her second miscarriage while meeting her sister's newborn.
Whitney also turned to her Instagram feeds to share a series of her photos with her sister's newborn. Along with the post, the TV personality captioned, "CHICAGO & TATE JEFFREY in a carousel nutshell. *** @fschicago you are (that means "dream" in emoji) xx."
Whitney has previously opened up about her second miscarriage. During an interview on the "Being Bumo" podcast, she talked about the loss. "I don't think you're ever fully healed after a loss. I think these losses make you into a stronger person," she stated. "I don't wish them upon anybody, but they do give you a lot of good perspective, and they give you a lot of time to appreciate the things that you have."
Whitney admitted she questioned herself over it. "It felt like, 'Why is this happening to me? Was there anything that I did wrong? Is there anything wrong with my body?' Now that this has happened twice, you know, I think that's sometimes one of the first things that we think about when this stuff happens to us, especially as women and being such harsh critics on ourselves," she spilled. "Then you realize, no, this is not something that you have any control over and you need to immediately release that part."
Whitney, who suffered her first baby loss with Tim Rosenman in July 2017 and announced in 2019, explained that her unborn child would have been born with a series of health problems. She added, "Basically I got a D&C (dilation and curettage) and they did an autopsy, and the doctor said that it was a chromosomal issue, so the baby was not going to be a healthy baby (if they had lived) and I felt like in that way I had a little bit of closure."
Source: Read Full Article