Alexandra Cooper Reveals Where She Stands With Sofia Franklyn
Alexandra Cooper is setting the record straight.
During Wednesday's episode of Call Her Daddy titled "The Funeral," the podcast host opened up about where she stands with her former co-host and roommate Sofia Franklyn following her public contract negotiation battle with Barstool Sports, where Franklyn requested a higher salary after learning Cooper made considerably more than her but ultimately decided to leave the show.
While on the topic of Franklyn's decision to leave, Cooper explained that she did not take the "50-50 deal" that she was offered.
"I think this where Barstool and I are pretty frustrated," she began. "Sofia did not take the deal and when it got held up and there were no more points coming from her side, we had to move forward without her. That's all it is. Everyone realized she's never gonna be happy. There were more and more points and then eventually, she stopped sending points and then she never sent her points. She said she wanted it. She never signed it."
Cooper continued, "You know, you have a 50-50 deal in front of you in a partnership that's not 50-50—genuinely, I'm like, 'How do you not take that?' Like, I literally started to feeling crazy…So, I think that's important to emphasize and I want to make it very clear that it seemed to me in my opinion—Sofia's 50-50 was about money. Not labor."
Moving on to their living situation, Cooper shared that the timing of the contract switch up aligned perfectly with their lease, expressing her excitement to move on. "Actually, our lease is up at the end of July, so we were gonna have to move out soon anyways," she pointed out. "And so, I am going to move out and I'm going to move into a new place and I'm gonna live alone. I'm not sure what Sofia is doing."
Despite the close-knit bond the duo appeared to have on during their podcast, Cooper revealed that their friendship had been strained due to Franklyn's relationship with Peter Nelson, who played a large role in her negotiations with Barstool Sports. But, Cooper urged that she had no bad feelings towards her.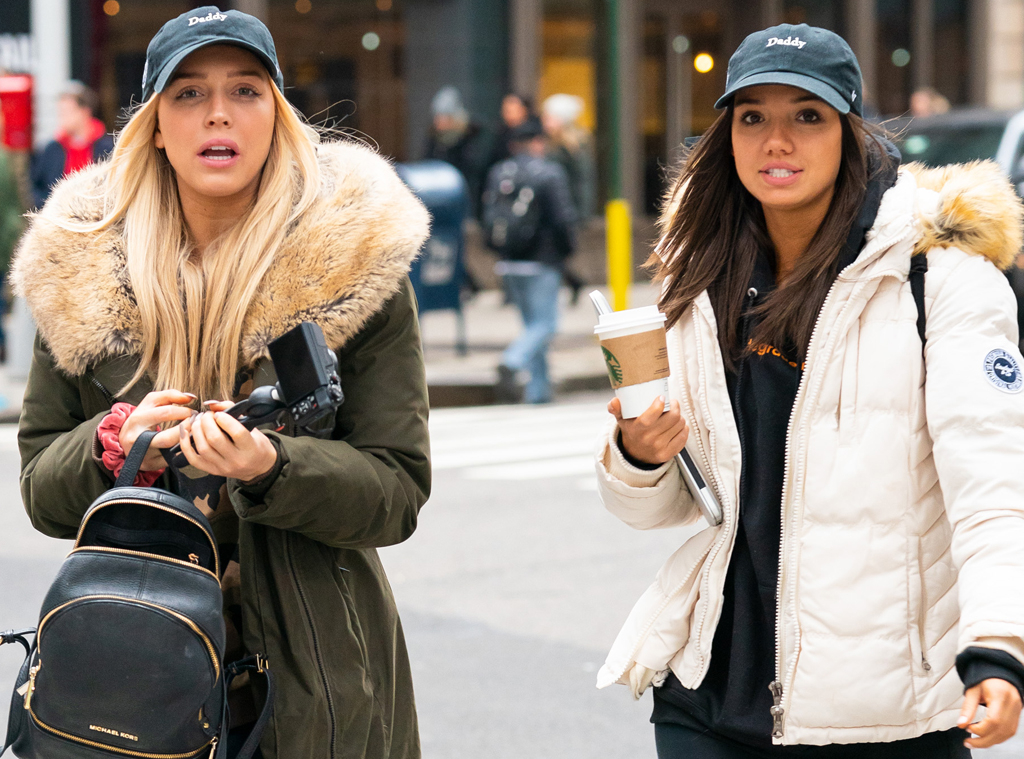 Gotham/GC Images
Coming to her former co-host's defense, Cooper stressed that fans of the show should not try to "cancel" Franklyn amid after their falling out: "Guys, Daddy Gang, please listen. That is not okay, at all. Ever. I don't support cancel culture, none of us should. We don't need to agree with Sofia and her decisions, but we absolutely don't need to be bullying her. There's no excuse for that. Point blank, I'm f–king done."
As Cooper discussed the future of the show, she assured listeners that she wouldn't be hosting solo for long. "I'm gonna have guests on—the whole thing is, like, it's not gonna just be me," she explained. "I don't want to hear my own voice 'cause I have to edit this show and I don't think I would make it through this next year if it was just me. So, there are going to be guests. There's going to be Daddy Gang etc. We're gonna have Barstool people come through, like, trust me, it's not just going to be myself."
In fact, she announced that she will be inviting "Daddy Gang" members to appear on the show every week as part of a new segment to make the podcast more inclusive and remain connected to its fanbase. "At the end of the day, this show has a community of people that have basically become family," she said. "I read on the Internet when this whole thing was going down, I remember reading people being like, 'God damn, if this show ends can we at least all stay connected?' Like, that's how much you f–king guys are, like, in this."
Source: Read Full Article