Economists warn PM against ending social distancing as job losses grow
Some of the nation's most-respected economists including a sitting Reserve Bank board member have warned the Morrison government against winding back social distancing laws too early amid warnings up to 3.4 million Australians could be out of work within weeks.
As former treasurer Wayne Swan called on tech companies to be slapped with a digital tax to help pay for the budget damage caused by the fight to stop the coronavirus pandemic, research by the Grattan Institute shows the current shutdown will cost the country at least 1.9 million jobs.
The government has signalled next month an easing of some restrictions which most economists believe have delivered Australia its first recession since 1990-91. The federal Treasury is forecasting unemployment to peak at 10 per cent in the June quarter.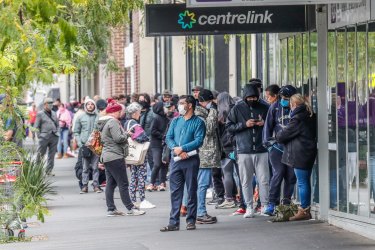 The Grattan Institute has warned up to 3.4 million jobs could be lost as the country seeks to control the coronavirus pandemic.Credit:Jason South
A 10 per cent unemployment rate equates to 1.4 million people out of work or an increase of 700,000 in the next three months.
But Grattan researchers cautioned social distancing requirements and closures are having much broader impacts on the economy, hitting areas not directly affected by coronavirus.
It believes in hospitality, the most affected by social distancing rules, up to two-thirds of jobs could be lost. But even in construction and manufacturing, it estimates almost 20 per cent of jobs could disappear.
Combined, between 1.9 million and 3.4 million jobs could disappear with the unemployment rate a chance of reaching 15 per cent.
The economic cost has prompted some calls for the government to quickly wind back rules aimed at stopping the pandemic's spread.
But in a letter to Prime Minister Scott Morrison, 35 of the nation's pre-eminent economists say an early relaxation of social distancing laws could deliver an even bigger medical and financial hit to the nation.
Signatories to the letter include current RBA board member Ian Harper, former member Warwick McKibben, and respected academic economists including Deborah Cobb-Clark, Justin Wolfers, John Freebairn and Flavio Menezes.
RBA board member Ian Harper is one of 35 pre-eminent Australian economists who have written to Scott Morrison warning against an early relaxation of social distancing measures.Credit:Andrew Meares
One of the letter's organisers, George Washington University assistant professor of economics Steve Hamilton, said while there were high financial costs associated with shutting down the economy, the alternative was even worse.
"We recognise the high economic costs of the measures, but these are dwarfed by the lives that would have been lost and the even greater economic damage caused if the virus was allowed to get out of control. You can't let an exponential process get away from you, even a little bit," he said.
The federal government has so far committed more than $200 billion in direct economic assistance while it is also facing a huge fall in expected tax revenues. Treasurer Josh Frydenberg has lifted the government's debt ceiling to a record $850 billion.
That has prompted debate within the government about how it will pay for all the stimulus and support.
Former treasurer Wayne Swan says tech companies should be taxed to help pay for the repair of the budget after the pandemic.Credit:Mick Tsikas
Mr Swan, who dealt with the global financial crisis, backed the government's spending as "necessary and timely".
Paying for it must include a renewed focus on multi-nationals, especially technology companies that have been the focus of efforts by tax agencies for several years.
"Any company receiving government stimulus or contracts must be required to demonstrate its bona fides when it comes to pay tax," he said.
"With our community in lockdown, our reliance on online services and platforms deepens and tech giants stand to make windfall profits."
But separate research released on Monday by left-leaning think tank Per Capita suggests worries over debt are misplaced.
In a new discussion paper, the organisation says that once the pandemic's health effects have flowed through the country, the Morrison government will have to spend – and borrow – even more to kickstart the economy.
Co-author of the report and Per Capita executive director Emma Dawson said if governments focused on paying down debt as quickly as possible then they would hurt the economy and ordinary people.
"It is not the debt itself that poses a risk to our children and grandchildren, it is that we may respond to that debt by cutting public spending and further shrinking the economy, undermining the ability to build good lives in the years ahead," she said.
Sign up to our Coronavirus Update newsletter
Get our Coronavirus Update newsletter for the day's crucial developments at a glance, the numbers you need to know and what our readers are saying. Sign up to The Sydney Morning Herald's newsletter here and The Age's here.
Source: Read Full Article