How Dress for Success Is Serving Women During the Coronavirus Pandemic
Since its founding in 1997, Dress for Success has served more than 1,200,000 low-income women by outfitting them with professional attire to help them look the part as they interview for jobs and secure steady employment. A global organization with more than 150 offices in some 25 countries, the nonprofit relies on donations of suits, blouses shoes, and bags to help provide office-ready styles to its clients. But as Joi Gordon, the organization's CEO, explains, "We're so much more than clothes."
For more than two decades, Dress for Success has evolved from a provider of workwear to a comprehensive career assistance resource that takes a holistic approach to helping women achieve economic independence. By offering mentorships, workshops, networking opportunities, career coaching, mock interview sessions, and more, the organization not only aims to help women find jobs but also make sure they excel at them. And with global unemployment rates on the upswing due to the economic devastation caused by Covid-19, its mission has never been more important.
"Our response to the pandemic was not simply to close our doors—the women who walk through those doors need us," says Gordon. "We decided to pivot our organization and make it work virtually. We're working harder than ever because we realize that our clients need us more than ever."
In March alone, more than 700,000 jobs were eliminated in the United States because of the coronavirus pandemic, according to the U.S. Department of Labor. Of those 700,000 jobs, nearly 60 percent were held by women. "We know there will be a record number of people unemployed when we come out of this, and that marginalized communities will be affected the most," says Gordon. Considering that 40 percent of the organization's clients are single mothers and 64 percent were already living below the poverty line pre-pandemic, ensuring that it remained open, active, and accessible was crucial.
In a process Gordon describes as baptism by fire, Dress for Success shifted its focus toward digitalization. Within a month's time, 90 percent of its affiliates were offering tools and resources online, whereas previously only 5 percent had. Of the women who have taken advantage of the virtual programming, which includes things like workshops and career coaching, 30 percent are new to the organization. "We want to make sure that we're readily available now and post-pandemic to provide full services to what's probably going to be a really robust group of women who will need us," she says.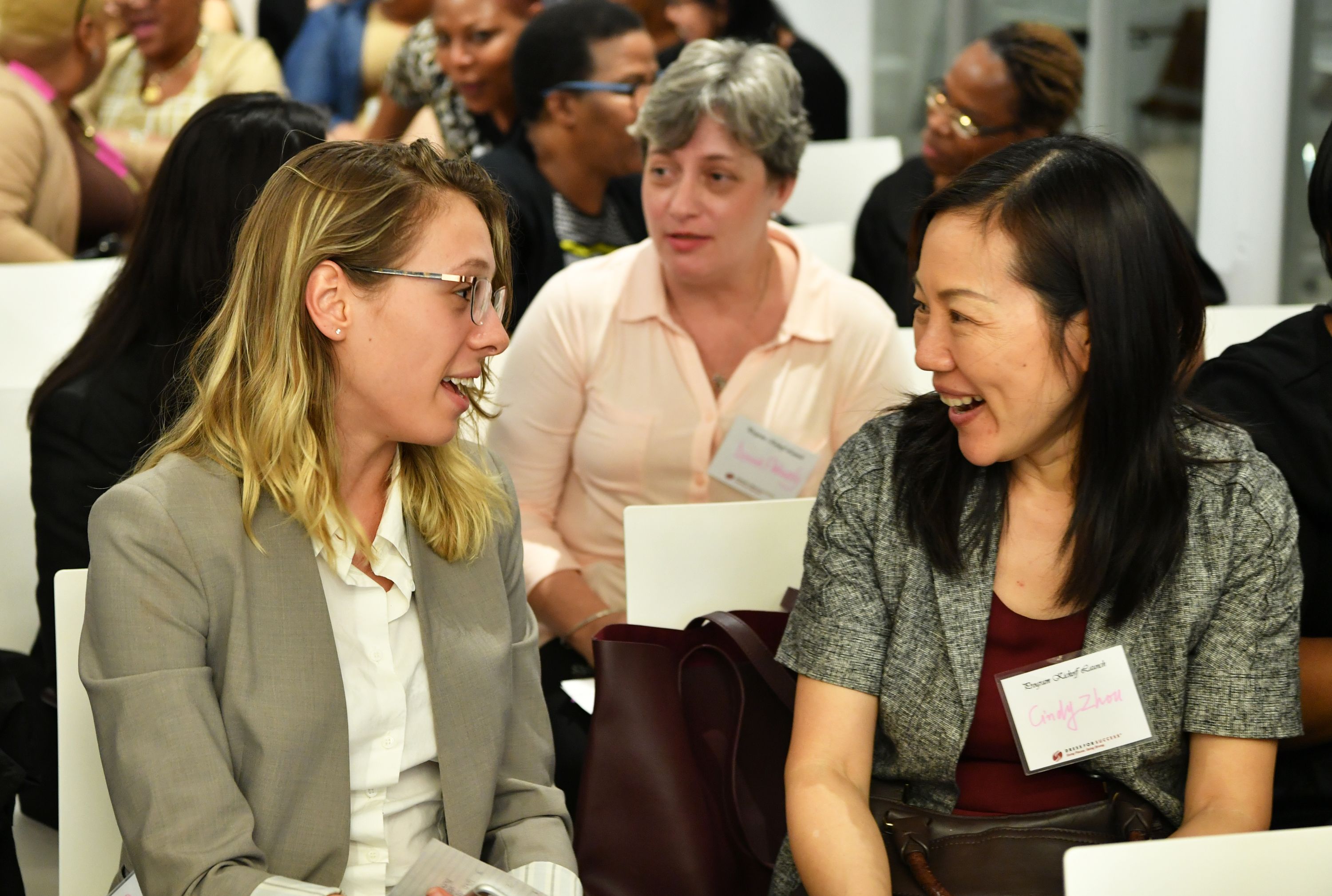 Before Covid-19, Dress for Success's functionality was heavily reliant on in-person interactions. Candidates who had gone through job training programs would be sent to one of the organization's offices before their first interview, where they were outfitted in professional attire and engaged in mock interviews. Depending on whether or not the client ultimately got the job, she would enter either of Dress for Success's two main programs: one that focused on continued job placement through once-a-week meetings; or the Professional Women's Group, which provided monthly workshops focusing on growth within the workplace. Both tracks featured mentorship, leadership training, and professional development classes, and once a client secured a job she would also receive a week's worth of professional clothing. "We have a lot of different points of connectivity with the women we serve," says Gordon.
The group's hands-on approach works. Seventy-six percent of women who complete Dress for Success's workplace development programming are employed within 90 days, while 80 percent of women who complete its employment retention programming remain employed for at least one year. Even more impressively, 80 percent of participants achieve some form of financial stability by the end of the program.
Right now, the overall professional landscape looks vastly different than it did even two months ago. Companies that are still able to hire new employees are doing so through virtual interviews, and many people who have lost their jobs are figuring out in what other fields their skill sets are applicable. To guide clients during this unprecedented time, Dress for Success has been rolling out online workshops covering LinkedIn and social media networking techniques, how to conduct yourself on a video interview, personal finance advice, Covid-induced stress-management tips, and more, in addition to more evergreen career development programming. Many of the workshops are led by prominent public speakers, small business owners, and HR professionals who volunteer their expertise. "We've also done quite a bit of meditation and relaxation programming, because to say our women are multitasking is an understatement," adds Gordon. "Many are single moms, and for the ones at home, they're having to teach their kids while still preparing three meals a day while trying to contact unemployment while trying to get food stamps while maintaining an upbeat and resilient attitude."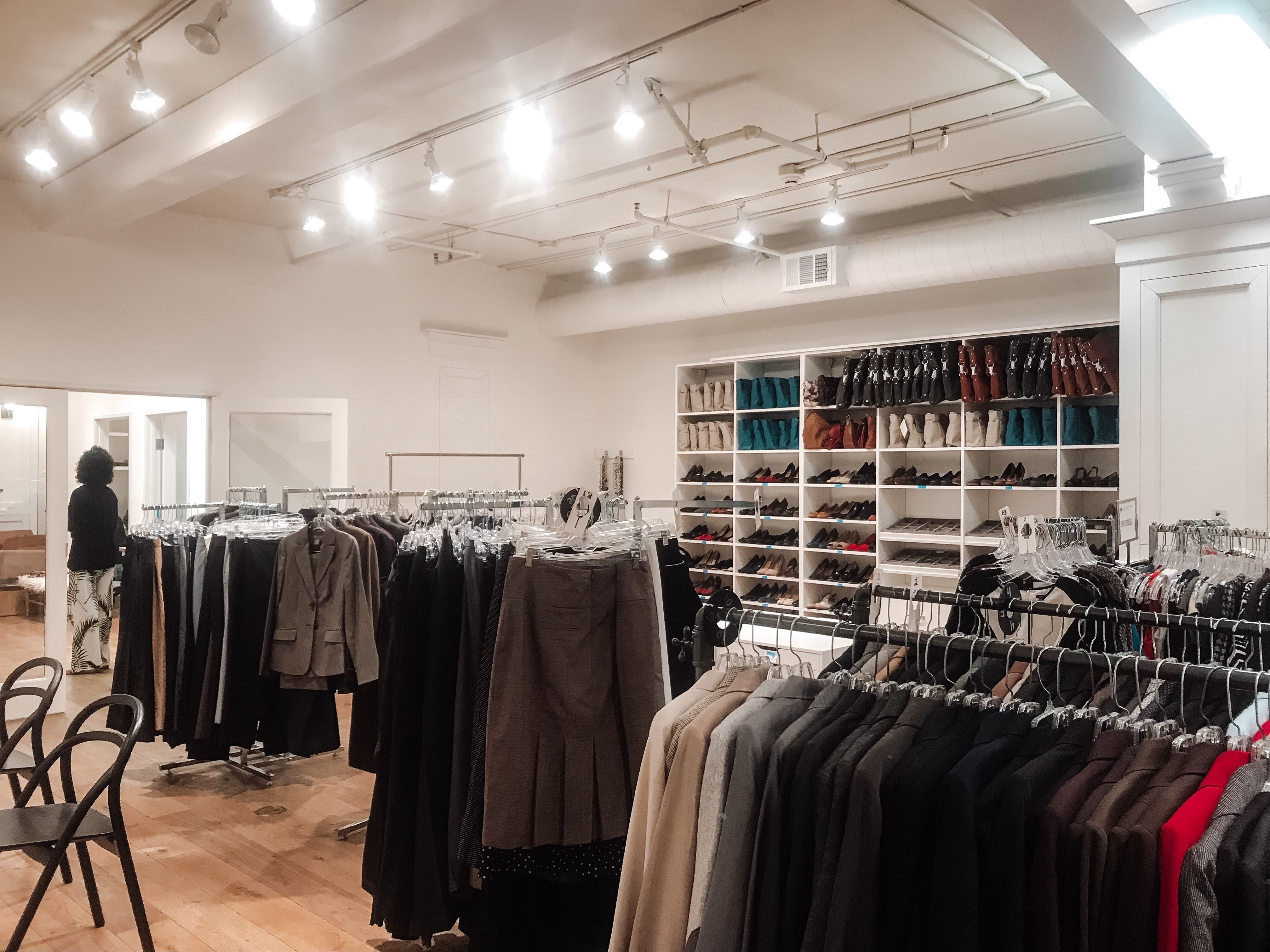 As for its clothing-based efforts, Dress for Success is still figuring out how and when to start receiving workwear and distributing it to their clients again. Currently the group is not accepting donations. Pre-Covid, a client would walk into a Dress for Success boutique and be greeted by a volunteer stylist who would then ask her about her style, favorite color(s), and where she was interviewing. A rack of options would be compiled and brought into a fitting room for the client to try on. "The process functions very much like a personal shopping experience," says Joi. "We work with you until it works for you, however long that takes.
Until the organization's boutiques can reopen and face-to-face interactions can resume, Dress for Success will continue its fight to empower women virtually. As for what you can do to chip in? "We want to find more women and men who care about women's success to join Dress for Success on this journey and provide women with the tools they need to succeed," says Gordon. "We want more volunteers, we want more donors, we want more friends, and we want to reach more women. That's the way we're going to get out of this pandemic, by helping one another."
Donate to Dress for Success Covid-19 relief here.
Source: Read Full Article