Inside Chris Pratt and Katherine Schwarzenegger Family Plans
For a period last June, Katherine Schwarzenegger simply couldn't stop shouting out Chris Pratt.
It wasn't so much that she found so much of her new husband's qualities so praise-worthy (although, duh, she absolutely does), but that the month was chock full of reasons to celebrate. There was their wedding, of course, the June 8 vows bringing some 70 guests to the San Ysidro Ranch in Montecito, California and leaving the Armani-clad bride feeling flush with joy at what she dubbed "the best day of our lives" in an Instagram post. "We became husband and wife in front of God, our families and those we love," she marveled. It was intimate, moving and emotional. We feel so blessed to begin this new chapter of our lives."
Not quite two weeks later, as they enjoyed a Hawaiian honeymoon, she was wishing the happiest of 40th birthdays to her "darling angel face," underlining how "beyond blessed" she felt to "live this magical life with you."
As for the two posts in between, they were dedicated to Father's Day, first a wish for her own dad, Arnold Schwarzenegger and then an acknowledgement of the job Pratt was doing with 7-year-old son Jack Pratt. "Watching you be such a hands on and loving father," she wrote, "was one of the many reasons I fell in love with you, and continue to each day."
View this post on Instagram
Happy Father's Day to my wonderful husband. Watching you be such a hands on and loving father was one of the many reasons I fell in love with you, and continue to each day. I love you ♥️
A post shared by Katherine Schwarzenegger (@katherineschwarzenegger) on
And the chief reason she's ready to double down on their commitment.
"Katherine and Chris have been very open about wanting kids soon," an insider tells E! News. In fact, the actor named it as his top goal when asked which direction he saw life taking him. "The future? Oh. Lots of kids," he told Entertainment Tonight while promoting Lego Movie 2: The Second Part last winter. "Maybe less time spent working, more time spent enjoying life."
For now he has a full slate, filming the 2020 sci-fi flick The Tomorrow World, promoting his new Pixar comedy Onward and eyeing work on the next Guardians of the Galaxy and Jurassic Park editions. But, thankfully, he's fairly adept at multi-tasking.
"She's expressed she'd love to be pregnant in early 2020," the insider says of the author, who just released her fourth book, The Gift of Forgiveness. (Well, her first under the name Katherine Schwarzenegger Pratt.) "Chris has a busy year coming up with filming, but both of them are ready to start this next chapter and bring a baby into their happy marriage."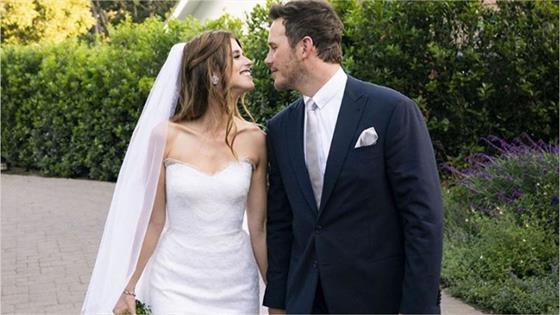 After all, Schwarzenegger has already had the best crash course in parenting, having taken to Jack, Pratt's son with ex-wife Anna Faris, immediately after the couple began dating last summer.
"She's a great stepmom," Pratt gushed in last week's episode of In The Room. "She's, god-willing, gonna be a great mom one day. She's got great parents, great siblings. She fills in all my many deficits."
Long before the writer moved into a shared place with Pratt, she outfitted her cozy Santa Monica bungalow with kid-approved additions. "She always wanted him to feel welcome and like it was his house, too," a source explained to E! News of her decision to bring in a trampoline for him to use when he was there. "She made it a big priority to have all sorts of things for him to do."
So whether it was hitting up a sporting goods store, turning date night into dinner for three or kitting herself out in Minnie Mouse gear for a trip to Disneyland, she was game. "She wants to be a great stepmom," said the source, "and do everything she can to provide him with a nurturing and loving home."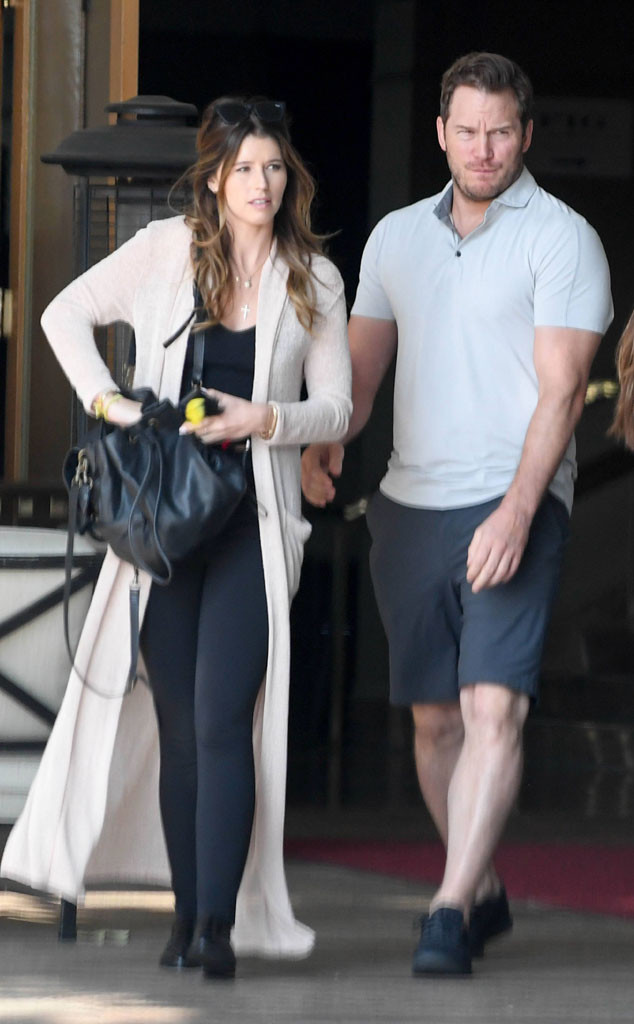 MEGA TheMegaAgency.com
And perhaps a sibling (or two?) that can accompany Jack both at the pair's L.A. digs and Pratt's home away from home on Washington's San Juan islands, just north from where he grew up in Lake Stevens.
A place ready made for bringing up kids far from paparazzi cameras and curious onlookers, the bucolic spot allows Pratt to play farmer, tending to his various sheep, pigs and a Longhorn cow. "I always want to be that guy that works to live, not lives to work," Pratt told ET of his happy place. "I think [I want to spend] just a lot of time at the farm and a lot of time catching a lot of fish and seeing lots of sunsets."
Which works for Schwarzenegger. Though raised in L.A. with plenty of summer stays at the tony Kennedy compound in Hyannis Port, Massachusetts (mom Maria Shriver is the daughter of politician Sargent Shriver and activist Eunice Kennedy Shriver), the ASPCA ambassador is perfectly content with the four-legged set. "I've kind of grown up with a bunch of different animals," she told E! News at the March premiere of the IMAX documentary Superpower Dogs, "so it feels very comfortable and at home, and just a beautiful part of life."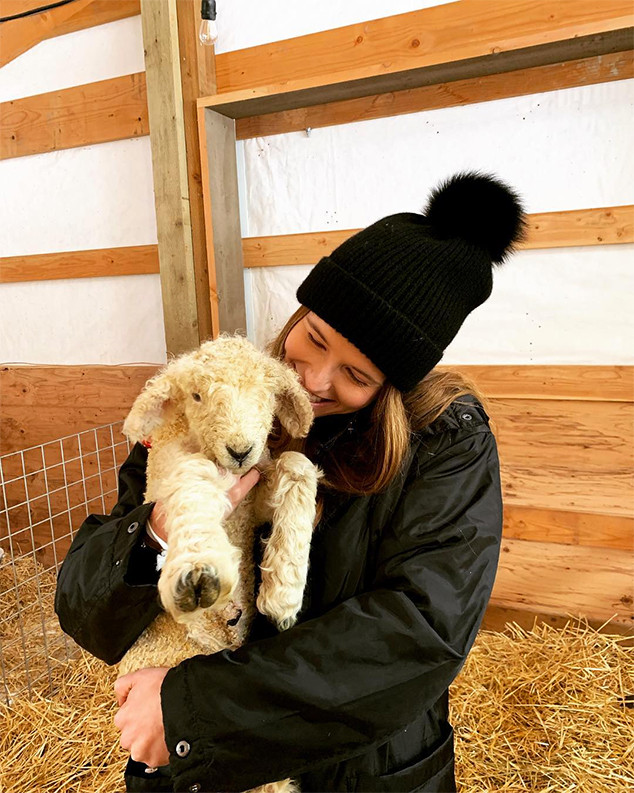 Instagram / Chris Pratt
As are their church Sundays, a lead-in to family dinners with Schwarzenegger's kin. After all, the weekend activity is as much a part of their origin story as anything else. Had Pratt not connected with Shriver at church, she may have never suggested he consider a date with her eldest daughter, known for sharing spiritual musings and bible passages on social media. Having become increasingly vocal about his devotion to religion, he was excited to find a kindred spirit in the University of Southern California grad.
"He's constantly around other people who have no faith or are apologetic about it, but not her," a source told People in January. "She is willing to talk about it to anyone who will listen." So just as religion was a part of their wedding, it will feature heavily in their family life, too. "They do plan to have kids in the near future," another insider tells E! News, "and they will be raised in faith."
For now, though, they're happy to reserve a pew for three. (Or, realistically, for themselves, her mom and whichever combination of her three siblings and their accompanying partners choose to attend.)
"Katherine and Chris are still in the honeymoon phase and totally in love," the insider tells E! News. Whether joking about Schwarzenegger's failed dinner attempts at home in California or Pratt's Instagram husband skills in New England, "They are spending a lot of time together enjoying each other," says the insider.
Because, really, there are still more than a few pinch-me moments for the writer. When an October appearance on Today evolved into a discussion of inspirational sayings, Schwarzenegger shared she has a particular affinity for the bit about how things fall apart so better situations can come together.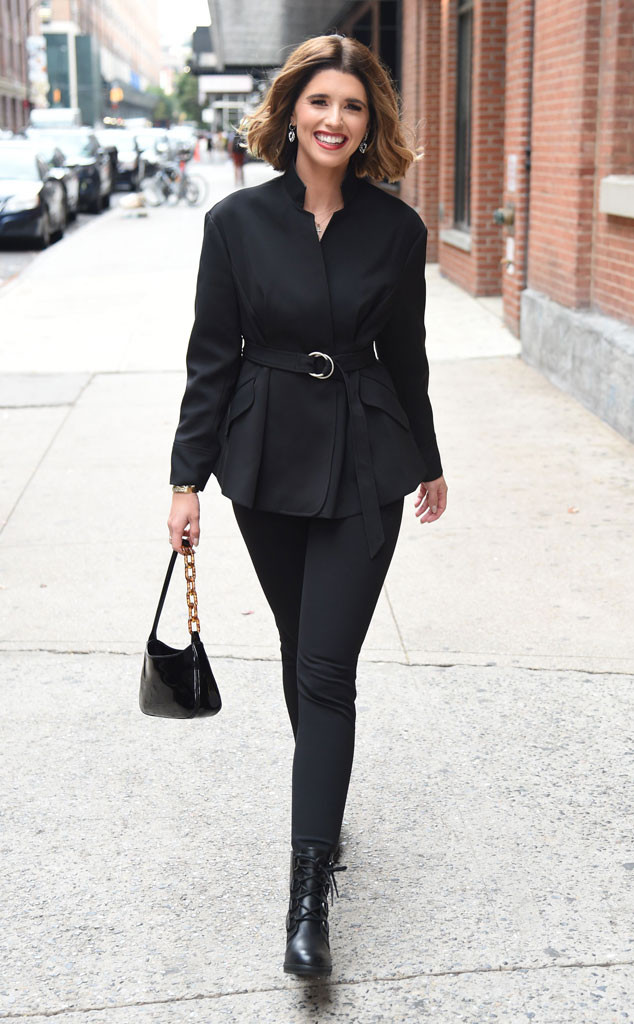 Jason Merritt/Radarpics/Shutterstock
"You don't know what's going on [and] wonder why certain things are happening in your life and then later they make sense and you're like, 'That's exactly why.' It's a struggle, I think, to wait, to figure out why that was happening," she said of her previous dating woes. "When you're in the moment, you're just very focused on getting through it and defeating it. And then when you're able to actually see and realize why you go through something, it's the best."
Tracking down the person you're meant to spend forever with "can sometimes be really challenging," she continued. And then once you find them, "You're like, 'That's exactly why past things didn't work out.'"
Because, for her, everything has come together in a way that's far sweeter than she could have ever imagined. "I do still feel like a newlywed. I don't know how long that's supposed to last, but I do definitely feel like a newlywed in the sense that I feel beyond lucky and blessed every single day to be married to the man that I'm married to," she told People earlier this month. "I'm still really excited and crazy in love."
(Originally published November 10, 2019, at 3 a.m. PT)
Source: Read Full Article