Jacinta Allan quietly takes on new cabinet responsibilities
Save articles for later
Add articles to your saved list and come back to them any time.
Deputy Premier Jacinta Allan has been quietly handed a new portfolio responsibility, putting her in charge of land development along the government's flagship Suburban Rail Loop – an expansion of her responsibilities that was not publicly announced.
Allan's new ministerial responsibility was mistakenly revealed on her schedule for an upcoming budget estimates committee hearing in June, with "precincts and land co-ordination" listed as her fourth portfolio. She was allocated 30 minutes to take questions on the portfolio area, which sits in the Department of Premier and Cabinet.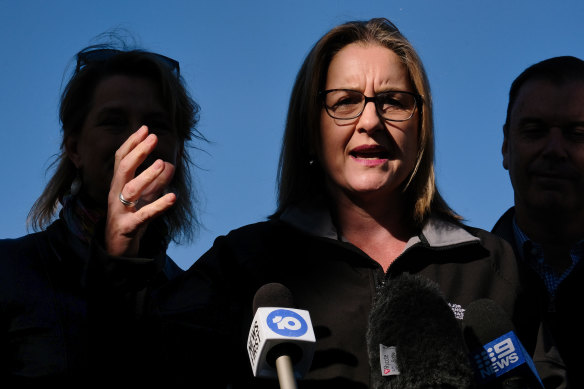 Transport Minister Jacinta Allan has been given an expanded role with new portfolio responsibilities.Credit: Luis Ascui
When asked to explain why the ministerial change was never publicly announced, a government spokesperson denied it was a new portfolio, instead describing it as a "function" that was established in January as part of broader machinery of government changes.
Two Labor ministers, speaking to The Age on the condition of anonymity to discuss cabinet matters, said Allan's expanded responsibilities were expected to be publicly revealed in this month's state budget. The government is expected to unveil a major planning overhaul as part of a push to get younger people into established suburbs, as first revealed by this masthead.
Planning Minister Sonya Kilkenny.
One minister said the change would see Planning Minister Sonya Kilkenny stripped of some of her responsibilities, and Allan's new role overseeing precincts and land co-ordination would put her in charge of fast-tracking development in middle-ring suburbs, particularly those on the Suburban Rail Loop.
The government said the precincts and land co-ordination function would guide a whole-of-government approach to precinct development and the land acquisition processes required to deliver its infrastructure commitments.
But another minister said it was a further example of the centralisation of decision-making in the Andrews government to a handful of ministers who are members of the Co-ordinating Ministers of Cabinet committee that was set up at the start of the COVID-19 pandemic.
The minister joked that it was a "Morrison-esque move", alluding to former prime minister Scott Morrison, who secretly swore himself into several portfolios during the pandemic.
Ministers are appointed by the Governor to a portfolio and are responsible for the operation of any departments, administrative offices and public entities that are part of their portfolios.
In December, Allan was sworn in as Minister for Transport and Infrastructure, the Suburban Rail Loop and Commonwealth Games Delivery by Victorian Governor Linda Dessau in a ceremony at Government House.
Kilkenny took over the planning portfolio, replacing Lizzie Blandthorn, who was stripped of her planning responsibilities after potential conflict-of-interest issues were raised because her brother, Hawker Britton director John-Paul Blandthorn, was a lobbyist. The government and Ms Blandthorn denied there was a conflict of interest, saying appropriate measures were put in place from the outset of her appointment.
All ministerial appointments and changes to the ministry are published in the Government Gazette, but so far, there has been no mention of the precincts and land co-ordination portfolio in the Gazette or Hansard, the written record of proceedings and debate in parliament.
Another method of allocating areas of responsibilities to ministers would be to include it in a General Order, which sets out executive responsibilities among ministers and details that ministers are responsible for different legislation.
The last order was made on January 31, with Allan taking responsibility for parts of the Planning and Environment Act that deal with growth areas infrastructure contributions, a one-off levy applied to urban property developments that is used to fund infrastructure projects in growth areas.
The government said Allan's expanded responsibility was instead part of a broader change that came into affective on January 1.
When ask for published evidence on the change, the government provided an internal email sent to ministers in December explaining that Allan would "guide a whole-of-government approach" to precinct development and land acquisition to ensure the government delivered on infrastructure commitments.
With the minister due to represent the new portfolio area at a Public Accounts and Estimates Committee in June, deputy Liberal leader David Southwick called on Allan to explain her secret portfolio.
"What does this secret portfolio entail and what does it mean for Victorian communities?" Southwick said.
"Victorians deserve to know why this new portfolio has been established under the cover of darkness."
The Morning Edition newsletter is our guide to the day's most important and interesting stories, analysis and insights. Sign up here.
Most Viewed in Politics
From our partners
Source: Read Full Article