Man caught breaching COVID-19 restrictions four times, police assaulted
An officer manning a checkpoint has been injured and two others threatened with serious injury in a string of violent outbursts against police on COVID-19 duties over the past 24 hours.
Police said those arrested included a 36-year-old man who was allegedly found to have breached the Chief Health Officer's directions four times in the past 14 days.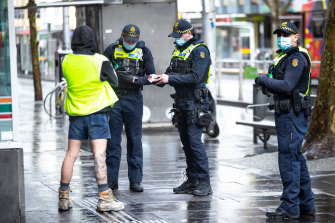 Protective Services officers patrolling and issuing fines in Melbourne's CBD on Tuesday.Credit:Simon Schluter 
Officers were called to a department store in Malop Street, Geelong, after reports a man was behaving erratically and not wearing a mask or face covering, about 10.30am on Tuesday.
After several warnings, police said they tried to arrest the 36-year-old West Melbourne man when he made serious threats to injure the officers.
The man has since been charged with seven offences including making threats to seriously injure persons, breaching the Chief Health Officer's directions and bail offences.
He was remanded to appear at the Geelong Magistrates Court on Wednesday.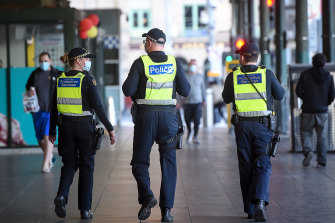 Officers patrolling the streets of Melbourne on Sunday.Credit:Justin McManus
A 41-year-old Chum Creek woman is also among the 155 people fined for breaching the Chief Health Officer directions in the past 24 hours after allegedly attacking a police officer at a checkpoint on the Maroondah Highway in Coldstream on Tuesday.
A police spokeswoman said the woman failed to complete an oral fluid test before allegedly assaulting the officer, about 8.45am.
She was taken into custody to complete the test and is expected to be charged on summons with assaulting police and drug-driving-related offences.
The police officer sustained a minor graze as a result of the incident.
Other examples of people being fined over the past 24 hours include a man caught clothes shopping in Airport West despite living in Mernda and another who walked to a Maribyrnong petrol station at 4am to buy food.
Of the 155 fines issued in the past 24 hours, 36 were to people caught leaving home without a face covering on, five were to people fined at vehicle checkpoints and 25 people were penalised for curfew breaches.
Over the past 24 hours, 17,339 vehicles were checked at vehicle checkpoints and there were 5004 spot checks on people at homes, businesses and public places across the state.
A man was also fined for boarding a 9.46pm train heading to Flinders Street Station with no exemption, three people were caught drinking together between 5.30pm and 8.50pm in Docklands and a woman was sprung after travelling more than 5 kilometres from her home to buy makeup at a shopping centre.
On Monday a young policewoman enforcing coronavirus restrictions in Frankston was allegedly assaulted and her head repeatedly smashed into concrete paving during a confrontation with a woman who wasn't wearing a mask.
On Tuesday, police union secretary Wayne Gatt said officers were being tested by "smartarses" who were trying to flout restrictions but urged the community to support frontline police.
"Our members are being tested, at roadblocks, at sites, but they are holding the line and helping the community and they won't be pushed and shoved by people like this … they have a job to do and we should be proud of them for doing it," he said.
Victoria on Wednesday recorded 725 new cases of coronavirus and 15 more deaths in Victoria's worst day of the pandemic yet.
Get our Morning & Evening Edition newsletters
The most important news, analysis and insights delivered to your inbox at the start and end of each day. Sign up here.
Source: Read Full Article