Pregnant Gigi Hadid Shares Rare Photo With Zayn Malik For a Good Cause
Gigi Hadid and Zayn Malik are giving back.
In collaboration with British Vogue, the couple, who announced that they are expecting their first child together back in April, showed their support for the publication's The Way We Wore auction, which will feature a selection of clothing from some of the world's most stylish stars to raise money for two important causes that have been providing relief amid the coronavirus pandemic: NHS Charities Together and the National Association for the Advancement of Colored People (NAACP).
For their part, Hadid and Malik posed for a stunning at-home portrait to show off the items they will be auctioning, which include a top and skirt pair from Fenty and a saddlebag from Dior. Sporting a denim button-up shirt, the mom-to-be can be seen sweetly embracing the One Direction alum, whose back is to the camera, as he models the designer bag in their mirror selfie.
"I appreciate the opportunity to give back in this way, and hope that whoever ends up with these pieces—the Fenty top and skirt and Dior saddlebag—really enjoys them, knowing that their contribution will help those struggling due to COVID-19," Hadid said in a press release. "Zayn and I send our love and best wishes to everyone."
Additionally, Helena Christensen, Joan Smalls, Lily Aldridge, Paloma Elsesser and Christy Turlington Burns will also be donating pieces from their wardrobes to help support the cause.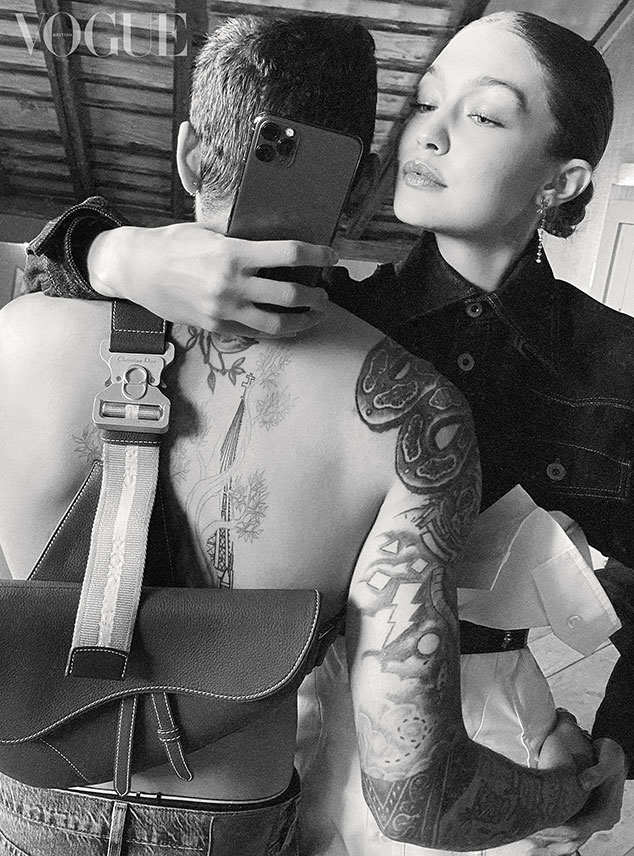 Gigi Hadid
In recent weeks, Hadid has been using her platform to call for racial justice. Following the death of George Floyd, she took to Instagram to express her sadness over recent events and urged her followers to demand change.
"Enraged. Sickened. Heartbroken. But never surprised. This happens way too often – and the videos that go viral are not isolated events," she said. "It seems that only when caught on camera are bigots & MURDERERS even getting 'investigated' or fired .. unfortunately, the only way things will start changing is if all these racist, ignorant, monsters (badge &/or not) have to face the consequences- behind bars."
"Keep signing petitions, making calls to demand justice, speaking out (this is not just if you have a big platform- it starts in your homes and communities), and fighting to make a difference for every life that has been wrongly taken or effected by THE PANDEMIC OF RACISM," she added. "THIS IS ABOUT BEING AGAINST EVERY SENSELESS ACT OF DISCRIMINATION THAT BURDENS THIS COUNTRY."
"E! stands in solidarity with the black community against systemic racism and oppression experienced every day in America," the network said in a statement on May 31. "We owe it to our black staff, talent, production partners and viewers to demand change and accountability. To be silent is to be complicit. #BlackLivesMatter."
Source: Read Full Article