'RHOA': Kandi Burruss Reacts to Nene Leakes' Shade Calling Her 'No. 2'
Nene Leakes from The Real Housewives of Atlanta is no stranger to a good read. The "tastiest peach" recently threw some shade at her co-star Kandi Burruss by calling her No. 2. Leakes is an OG of the Bravo reality series and has been a pillar since the beginning. Burruss joined in season 2 with an already established career behind her. Leakes' dig came on the same week that Burruss was revealed to be the Night Angel and the winner of The Masked Singer.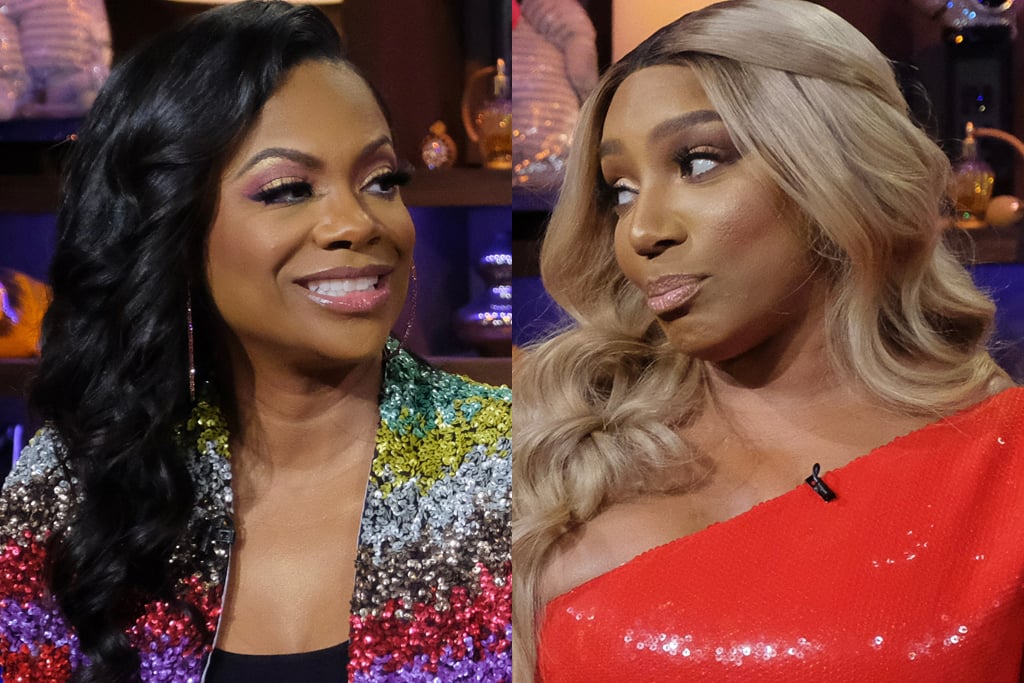 Nene Leakes pokes fun at Kandi Burruss
Leakes has a little extra time on her hands in quarantine and on Burruss' birthday she took to social media to congratulate her. Fans were surprised that Leakes dedicated a post to her co-star as they have been publicly feuding. This was no ordinary celebratory post as it was covered in shade.
"I will NOT let the fake beef YOU made up to stop me from wishing you a Happy Birthday and posting my favorite pic of us Kandi," Leakes posted. "Everybody go wish Kandi a Happy Birthday, then tune in to RHOA to watch Kandi have the fakest, want some smoke, beef with Nene segment."
Leakes also added hashtags that included, "Happy Birthday number 2," "Forgettable," "Kandiman," "fun shade right," and "Mrs. Atlanta."
Kandi Burruss reacts to shade
Burruss is not one to hold back and soon shaded Leakes back in another post.
"What I need from you is some understanding," Burruss posted on Instagram. "This is a cute throwback. Love how you were singing my song Nene Leakes. And thank you for the birthday wishes today. Much love from 'Miss Unforgettable.'"
Burruss referenced Leakes having a slip of the tongue during the RHOA Season 12 reunion where instead of saying she was "forgettable" she said she was "unforgettable."
In a separate interview, Burruss didn't seem bothered that Leakes said she was second to her.
"Let me tell you this — and this is just being a little petty — being number two has never looked so good, honey," Burruss told ET after winning The Masked Singer. "The number two is the new number one, boo!"
"You want $1 million or you want two?" she added. "You want one show or two shows? You want number one on The Masked Singer. Well, I don't know…"
Nene Leakes storms off the reunion
The RHOA Season 12 reunion was supposed to be for the ladies to hash out any issues they had during the show and reconcile. That didn't happen and Leakes ended up storming off the virtual reunion before it was over.
"The whole reunion is just Nene. What did you think about part one? Were they asking the questions to anyone besides Nene? It's Nene, honey. Nene, Nene… to the point where I said to Andy, 'Is there anybody else here, honey? Do you have any questions for anyone else here besides just Nene?'" she told ET.
Leakes claims it wasn't fair that only drama revolving her was being brought up and nothing from the rest of the cast was being tackled.
"Everybody is being paid a check, correct? So, Nene shouldn't have to carry everybody on her back. Let some of these other girls work for their checks, Andy," Leakes added.
The Real Housewives of Atlanta concludes this Sunday at 8 p.m. ET/PT on Bravo.
RELATED: 'RHOA': Kandi Burruss Calls out Tamar Braxton for Being 'Biased' in Nene Leakes Feud
Source: Read Full Article