Has 'The Sex Lives of College Girls' Been Renewed for Season 3 Yet? The Jury's Still Out…
The second season of The Sex Lives Of College Girls has been cracking me up on HBO Max. It seems like this show could go on for years, longer than college, even, because season 2 is still taking place during the leads' first year at Essex College. (I would say semester, but they have trimesters on this show.) But what about season 3? Weren't there a bunch of HBO shows that just got canceled? Made For Love, The Time Traveller's Wife, At Home With Amy Sedaris, and Raised By Wolves are just a few that have been axed recently. Here's what we do and don't know about The Sex Lives of College Girls season 3.
Has The Sex Lives of College Girls been renewed for season 3?
Not yet. But as of November 2022, there's still time for HBO to renew the series because it hasn't been outright canceled. But honestly, I'm a little worried. Recent comments by David Zaslav, the new President and CEO of Warner Bros. Discovery, seem to suggest that going forward HBO and HBO Max are focusing on, well, Batman and Harry Potter and Game of Thrones. Franchise stuff, and—as much as it pains me as a woman to say it, because I do enjoy the occasional cape and robot and wizard—content geared toward male audiences. Zaslav indicated that female audiences primarily watch house makeover shows…which, sure, but am I not allowed a little variety? Can I not enjoy a hilarious sitcom?
That all said, The Sex Lives of College Girls appears to be pretty popular. Maybe it will make the cut. Maybe it will move to Netflix or Hulu or another another streaming platform. It would really suck if the titular college girls didn't even get to finish freshman year.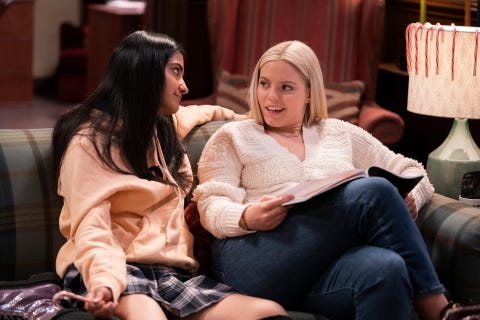 Who would be in The Sex Lives of College Girls season 3?
If the show is renewed, we can assume the core four—played by Pauline Chalamet, Amrit Kaur, Reneé Rapp, and Alyah Chanelle Scott—would be back. (The only hiccup is Kimberly's pending enrollment status and financial situation, but she's going to work that out. Right??) There would also be opportunities for new funny people to come on as guest stars. I, for one, would love to see the return of Leighton's ex-girlfriend Alicia (Midori Francis) and her brother Nico (Gavin Leatherwood).
When would The Sex Lives of College Girls season 3 come out?
On that premiere date front, season 1 and season 2 have been pretty consistent. They've both had ten episodes that drop on HBO Max two at a time, starting in the middle of November and ending five weeks later in the middle of December. So if The Sex Lives of College Girls is renewed for a third season, it's fair to guess that season 3 would premiere in ~November 2023.
How do I live until then?
You can watch Alyah Chanelle Scott on the Hulu series Reboot. You can stream Reneé Rapp's EP Everything to Everyone. You can binge Mindy Kaling's Netflix series Never Have I Ever or rewatch The Mindy Project. Follow everyone on social media, especially TikTok. There are plenty of ways to stay immersed in the adjacent world of The Sex Lives of College Girls until we get news (or better yet, a new season).
Source: Read Full Article