Laura Linney Is on 'Ozark' Because of Jason Bateman
Many fans feel that Wendy Byrde (Laura Linney) is becoming the real mastermind behind the crime in Ozark Season 3. However, Linney was only drawn to the series because of Jason Bateman.
[Spoiler alert: Ozark Season 3 spoilers ahead.]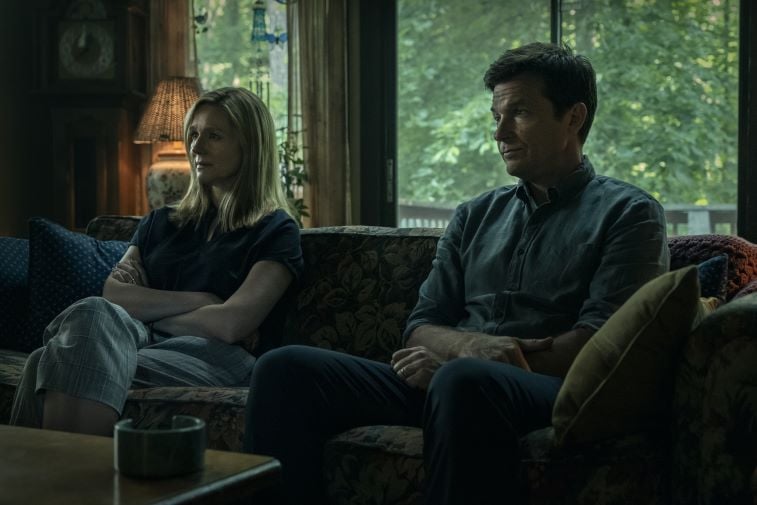 Fans feel Laura Linney's character — Wendy — is becoming the new Walter White
Ozark Season 3 took Linney's character to a whole new level. She opened a second casino for the Byrdes to launder money through without Marty's approval. Wendy even had her brother killed to show her loyalty to the leader of the Mexican drug cartel — Omar Navarro (Felix Solis).
"I think she's just using the upper-middle-class suburban housewife facade to her advantage," one Reddit user wrote. "You can see her turn on her charm. She's definitely more motivated to stay in this world than Marty."
At the end of Ozark Season 2, Wendy is the one who decided to stay in the Ozarks instead of run.
"Wendy turned into Walter white since she is doing it for her own rush," another Redditor added. "For Wendy, it was all about her ability and ego rather than the better good for the family."
RELATED: Is 'Ozark' The New' Breaking Bad'?
Laura Linney was drawn to 'Ozark' because of Jason Bateman
When Linney read the script for Ozark, she thought it had "tremendous potential." However, she wasn't interested in doing a TV series.
"I wasn't looking to do a series, but I've always really, really admired Jason [Bateman]." Linney told Collider. "I'd met him a few times, socially, and I'd always really liked him. I'd always suspected and inherently known that he had a much larger range than he's been able to explore, so I was just very excited for him, that he was going to let himself venture into another genre.
RELATED: 'Ozark' Season 4: The Most Likely Fan Theories to Play Out When Marty and Wendy Byrde Return
It was Jason Bateman's involvement in the series that decided for Linney.
"I'm at the point in my life where I basically make decisions based on the people, and people that I want to spend my time with," she continued. "I thought about it for a while, and I talked to my husband about it, and then I just thought, 'Why not?' It was a very good decision to make."
Was Linney happy with her decision to work with Bateman?
"This is Jason's show, and we are all just very lucky to be in it, honestly," Linney confessed. "And he set the tone so beautifully for the first two episodes, and let us out on the other end with the last two episodes."
RELATED: 'Ozark's Julia Garner Will Never Star in a Teen Movie
Linney was impressed with Bateman's directorial skills. She knew he was talented, but he exceeded her expectations.
"He's a wonderful director," Linney continued. "I knew he was going to be a good director, but he just completely blew my expectations out of the water. He was really, really skilled. He has a lifetime of experience working in front of the camera that it just comes to him so easily."
Source: Read Full Article