'Love & Hip Hop' Recap: Cheyenne is Heartbroken, Kiyomi Stands Her Ground
Last week's episode of Love& Hip Hop: Atlanta just stoked the messy fire that was sparked betweenCheyenne and Kiyomi. Shooter'santics led to an explosive face-to-face confrontation where only one womanknew about the other, and hands were thrown.
While that love triangle was the main focus of the episode, other things were happening in the LHHATL universe that spilled over into this week's show.
Broken friendships, pregnancy hormones, and a possible cheating scandal took over. Here's a quick recap of 9 which had some fans comparing Shooter to Stevie J.
[Spoiler Alert: Do not read ahead if you haven't watchedepisode 9 of Love & Hip Hop: Atlanta]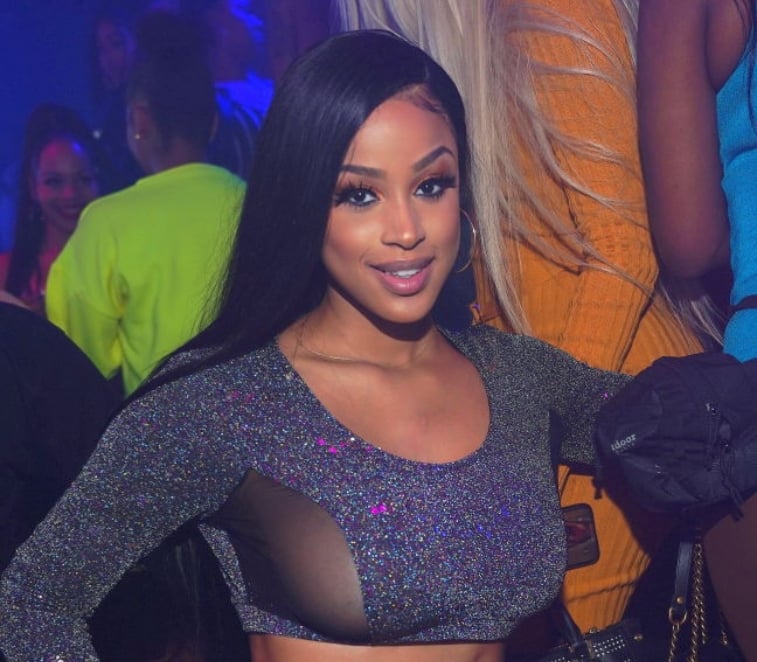 Kiyomi, Shooter, Cheyenne drama rages on
Cheyenne's feelings are hurt about Shooter springing another woman on her, and she's angry at Kiyomi's reaction too. Scrapp realizes he knows Kiyomi personally, though she denies they've been intimate.
An old clip is shown of Kiyomi flirting with Scrapp and rubbing her hand on his leg. Scrapp is not sure that he can trust Shooter for two reasons now.
Karlie Redd and Sierra have a kumbaya moment
Still away on their ski trip with the group, the Karlie and Sierra catch up about their personal lives. Karlie tells Sierra she got married and her husband cheated on her in their own house. (We're assuming she's talking about Arkansas Mo).
But the women talk about their friendship along with the old pain and patterns that affected their relationship. They patch things up, vow to work on being better friends, and hug it out.
Things flip to the whole group riding in their party van, and Shekinah gets offended after Sierra answers her question in a "sassy" way. They start arguing and Spice goes off in her confessional about Shekinah. She's over her.
Mimi tries to make peace, but Spice and Shekinah get into anargument. Once they arrive at the ski spot, Spice tries to pick a physicalfight with Shekinah, who remarks that she's had too much plastic surgery tofight. A pregnant Bambi decides to leave because there's too much drama and it'smaking her cry.
Fans aren't feeling Spice's energy and think she's doing way too much. The women ski, and after talking to Sierra, Spice decides to try and fix things with Shekinah.
They make amends while stuck on a Ferris wheel, with Spice demanding an apology from her friend for flaking out about finding her a house.
Back at the house, Sierra receives a call from a friend telling her BK is at the club with another woman, and said woman is rubbing on his beard. She calls him immediately, he tells her nothing is going on, and they start arguing. Sierra says it's the reason she'll never get pregnant by him.
Erica Mena and Kiyomi chat it up
Back in Atlanta, Mena meets up with Kiyomi. They exchangeniceties and talk about their shared history dating a certain rapper who shallremain unnamed. Mena gets the scoop on Kiyomi's open relationship with Shooterand her dealings with Scrapp.
Kiyomi calls Cheyenne "basic" and says if Shooter keeps heraround, he's losing his spot. Erica asks if she's ever met Sierra, Shooter's kids'mother, and Kiyomi says no but she's met one of the kids. Erica advises her to talkto Sierra for insight.
Things go left again with Cheyenne and Kiyomi
Toward the end of the show, Scrapp and Cheyenne are on theirway to a parking garage meetup with Shooter and Kiyomi. Cheyenne tells Scrapp she'slegit in love with Shooter. Apparently, the meet was her request so she couldget answers from Shooter.
Once they arrive, the two women start arguing until it's decided Shooter and Cheyenne need to speak privately. As Kiyomi yells from the car, Shooter tells Cheyenne she lost her position when she dipped out on him for a few months.
He compares it to walking off a job. But she responds once she came back, things were on the up and up between them. To her, he's dishonest and shady. Shooter then asks Cheyenne the status of their relationship.
In the end, Cheyenne says, "I'm embarassed, humiliated, andbrokenhearted." She vows this won't happen again and warns all the womenwatching LHHATL to use her story as a precautionary tale.
Source: Read Full Article