Most Cringe-Worthy Celeb First Kiss Stories
Why is it that every on-screen kiss between two famous stars happens to be the most romantic thing in the world? Even when these A-list actors are faking a budding romance in their blockbuster hits, their steamy kiss scenes ignite a fiery passion that makes it hard to believe these stars aren't romantically involved. Are Hollywood actors also trained in the art of the perfect smooch? While it's easy to think that these stars can master a glorious kiss in their television or movie roles, not every kiss in their real-life relationships has gone as smoothly. 
Several singers and actors have come forward to admit that their first kiss was anything but magical. In fact, they have become much more relatable to their fans after sharing their hilarious and downright cringey first kiss stories that some may never want to relive again. From describing their first pecks as nothing but wet to having their first kiss with a mega pop star that went horribly wrong, these stars shared their embarrassing stories so that fans know not everything in a star's life is as perfect as it may seem. 
Madison Beer's first kiss involved a flavorful bubblegum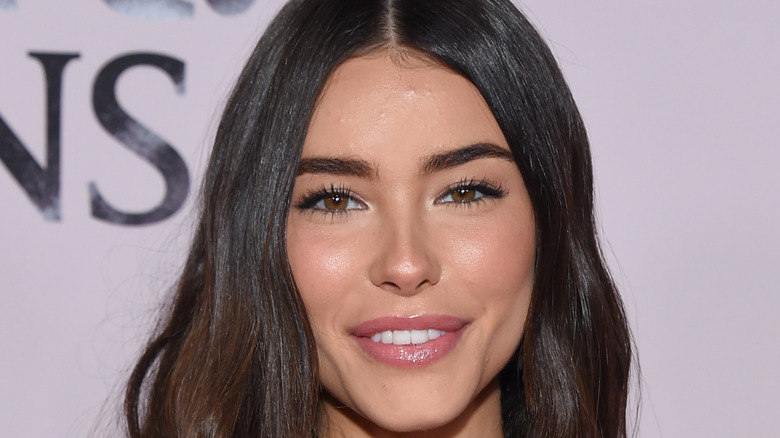 Madison Beer quickly rose to fame ever since Justin Bieber tweeted a YouTube video of her singing Etta James' "At Last" when she was just 13-years-old. Since then, Beer found herself transitioning from a typical pop star with her 2013 song "Melodies" to releasing her debut album "Life Support" in 2021, which features songs that showcase Beer's soulful voice and songwriting skills, and with MTV reporting that the songstress co-wrote and co-produced her first record. With over 25 million Instagram followers, it's clear that Beer has plenty of fans that want to know more about her. 
In an interview with Young Hollywood, Beer played a "Game of Firsts" in which she shared details about her first celebrity crush, and no surprise there — it was Justin Bieber. She also shared cringe-worthy goss about her first kiss. The singer admitted, "It's a random kid from Long Island. We were at our friend's Bazmitzvah, we were in 6th grade, 13-years-old I think, I had braces, he had braces, he was chewing Bubble Yum bubblegum, I remember because I'll never forget the taste." 
She added, "I was so scared because I thought he was so cute … we went into this closet … I remember he tried to stick his tongue in my mouth, and I freaked out … I'll never forget it."
Rihanna had a traumatizing first kiss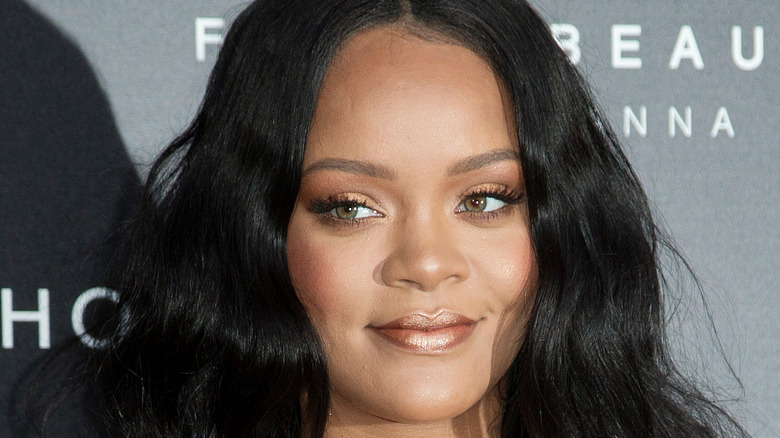 Rihanna has a dating history that involves some of Hollywood's biggest stars and even one Saudi billionaire businessman. Us Weekly reported that the "Desperado" songstress has previously been linked to Leonardo DiCaprio, Lewis Hamilton, Drake, and by December 2020, was dating rapper A$AP Rocky. In an interview with GQ, the rapper described Rihanna as "the love of [his] life" and added, "She amounts to probably, like, a million of the other ones. I think when you know, you know. She's the one."
While it appears that quite a few men have fallen for the gorgeous songstress, the same can't be said for the first person she's ever kissed. Rihanna told Rolling Stone early on in her career that her first kiss was anything but romantic. In fact, it was mortifying for the singer. She shared, "My first kiss was in high school, and it was the worst thing ever. He pretty much dumped his entire saliva glands into my mouth. It traumatized me. I didn't kiss for, like, ever." 
Billie Eilish got a less than satisfactory response after her first kiss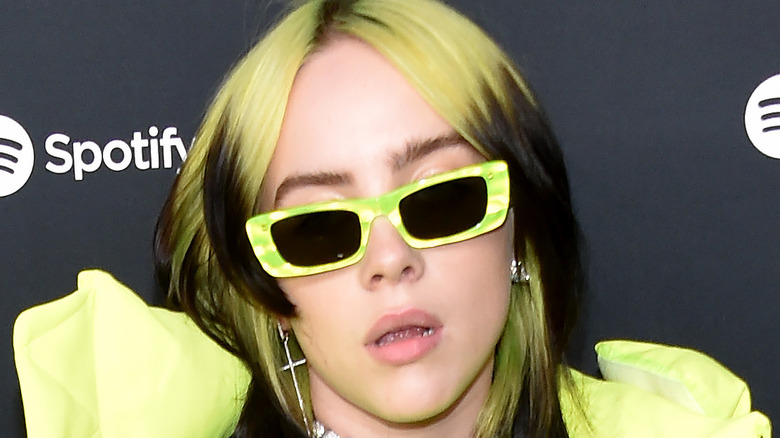 Billie Eilish has kept it real with her fans when it comes to her personal relationships. She featured one of her former boyfriends on her Apple TV+ documentary "Billie Eilish: The World's a Little Blurry." According to People, the "Lovely" songstress was dating a rapper by the stage name 7:AMP, and who Eilish called "Q." However, once the documentary was over, so was the couple, with the singer candidly sharing, "I just wasn't happy. I didn't want the same things he wanted and I don't think that's fair for him." 
At one concert, a fan captured the singer talking about her first kiss which happened to be right before Valentine's Day. After watching a movie and finding their way on the theatre's roof, Eilish and a boy named Henry Whitford locked lips. To her surprise, Whitford replied, "Wow, that was really not as magical at all as I thought it was going to be.'" Ouch! According to Cosmopolitan, Eilish's fans came after Whitford and attacked his comment section on one of his photos. 
However, it's safe to assume that since Whitford is following Eilish on social media, the kiss comment seems to be put in the past. 
Gigi Hadid had an awkward metal on metal kiss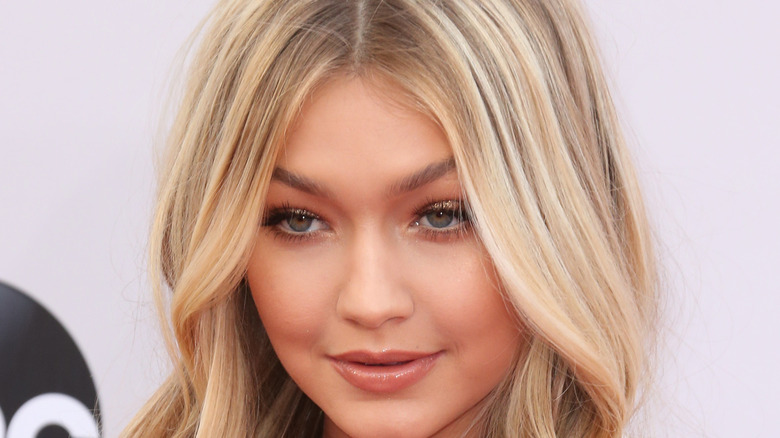 Gigi Hadid looked back at the start of her modeling career with W Magazine in 2016 and shared details about her first billboard to her first major campaign with Tom Ford, which helped to launch her career. However, Hadid also dished about more intimate moments that occurred in her life, including her first kiss. The model confessed, "My first kiss was at my friend's house. We were watching a movie – I want to say it was a horror movie – and I was with the guy that I liked. I was 14 or 15; we both had braces."
She added, "And my friend and the guy that she liked left the room, so we had our first kiss, and it was horrible and awkward. You know, lots of metal happening. I was happy to wait a while till our next kiss. I think it was more about our first kiss thing than actually wanting to kiss him all the time." 
Hadid may not have to relive those first kiss moments, but chances are she may have to retell the story with her daughter, Khai, who she shares with Zayn Malik, one day. 
Lana Condor can't stand thinking about her 'weird' first kiss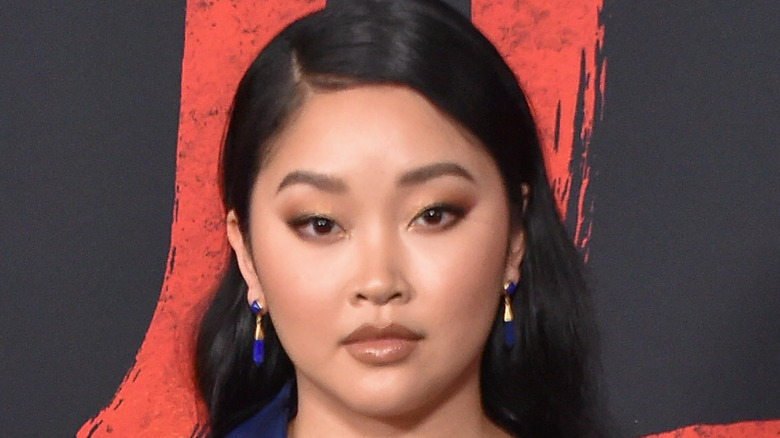 Actor Lana Condor may have prepared for all those kiss scenes in her film "To All the Boys I've Loved Before," getting to lock lips with Noah Centineo, but she couldn't prepare for her actual real-life first kiss, which was anything but perfect. The actor recalled having her first kiss to Seventeen where she confessed was with someone shorter than her and a dare. "It was with this little boy … he was way shorter than me, and it was the first time I ever kissed anyone. We went in … very puckered … and it was [a] weird, textural, experience that I don't want to go through again," she shared with the magazine, adding, "I was like, I'm never kissing anyone again. I don't know why everyone's kissing each other!"
Thankfully, Condor didn't have any awkward experiences kissing her co-star Centineo after telling Rollercoaster magazine about their close bond. "I have this beautiful relationship with Noah, he's a great friend of mine in real life. I would say that we probably did our job right if people like us together." While Centineo may be her on-screen boyfriend, Condor has been in a real-life relationship with boyfriend Anthony De La Torre since 2015 (via Elle).
Cole Sprouse's first kiss was in the back of a hearse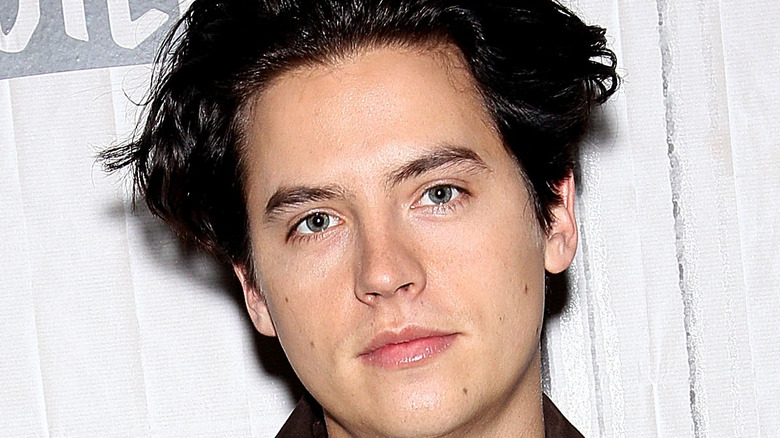 "Riverdale" star Cole Sprouse had his first date and first kiss all in the back of a hearse. The actor told W magazine that his first date involved a peck on the lips in the back of the vehicle that carries coffins. He recalled, "Charlene was her name. Strange name as well. Her father was an offbeat man. He was an avid Hot Wheels collector but then he also owned a hearse and he was part of this hearse club which is probably where my dark sense of humor comes from."
He continued, "We sat in that area of the casket and we pulled up in the curtains and we're making scary ghoulish faces out of the window to passing cars, which we thought was hilarious at the time and I still think it's quite hilarious. Then, we pecked on the lips and it was just lightning in a bottle. I got the kiss of death."
As for his twin brother, Dylan Sprouse, the actor's first kiss was with songstress Selena Gomez on the set of Disney's "The Suite Life of Zack and Cody." Gomez told Tiger Beat in 2009 that it was her first kiss too, but added that it was, unfortunately, "the most awkward kiss in the world."
Millie Bobby Brown experienced her first kiss on set of Stranger Things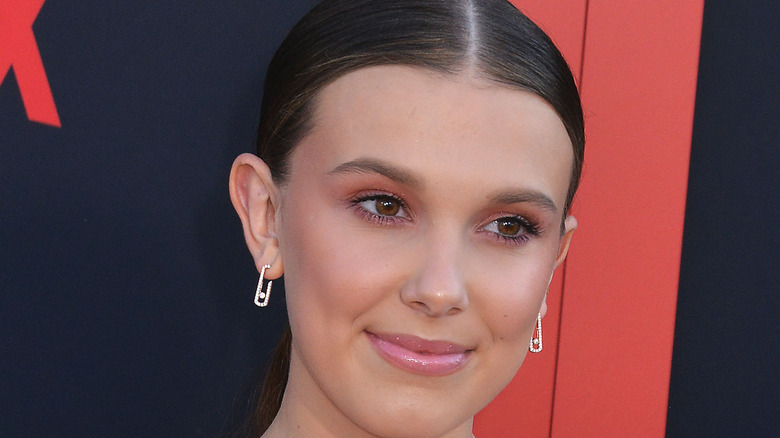 Millie Bobby Brown had to kiss her co-star Finn Wolfhard on the set on Netflix's "Stranger Things" and admitted that it was extremely "awkward," especially since it was her very first kiss. The actor shared during a roundtable interview in Tokyo (via GMA) that having her dad present during the smooch made things more cringe-worthy, stating, "My dad was watching. My dad watched the whole thing, my whole family was there, and it was the most awkward thing in the world … it's awkward, we're 15-years-old. It's not like, all right, let's just do it. We're obviously like, 'Okay … what do you wanna do now? Shall we hug? No idea what to do. There's not really preparation.'"
For her cover story for Variety, Brown also dished about her first kiss on-screen, stating, "It was a strange experience. Having 250 people looking at you kissing someone is like, 'Whoa!'" She also shared that while Wolfhard claimed he already had his first kiss, Brown wasn't buying it. "He says I wasn't (his first), but I definitely think I was. I think he was just trying to be cool."
Co-star Caleb McLaughlin, who starred as Lucas, also had his first kiss on the set of the Netflix show, planting a kiss on Sadie Sink, who starred as Max. Talking about that special moment, he told Vanity Fair, "She came in for the kiss. I was like, 'Oh, let's do it.' Finn gave me some advice. He's the master at it.'"
Nick Jonas' first smooch was with a famous Disney star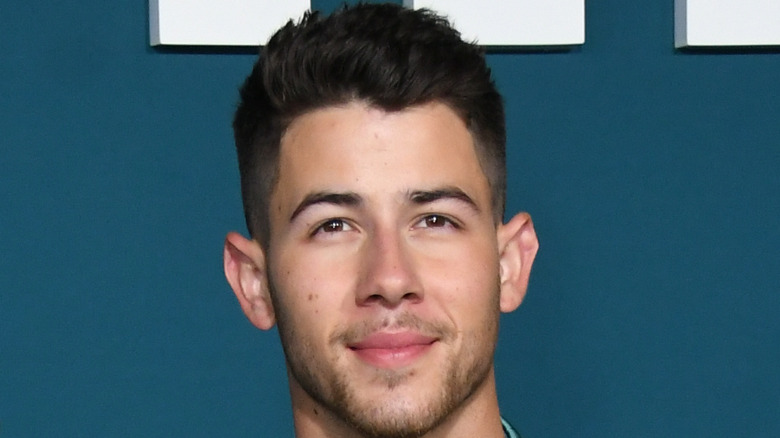 Before Nick Jonas married the stunning Priyanka Chopra in December 2018, the Jonas Brothers star had dated several A-list stars which included Miley Cyrus, Olivia Culpo, and TMZ reported that he was even rumored to be dating actor Kate Hudson at one time, who is 13 years his senior. So, which of these women was Jonas' first kiss? The singer dished on the time he had his awkward first kiss with his Disney counterpart, Cyrus, to BBC Radio 1 (via MTV), and if he believed the "Wrecking Ball" singer even remembered it. 
"The first person I kissed was Miley Cyrus and I kissed her outside of California Pizza Kitchen in Hollywood — very romantic. I'd just had a pizza that had onions all over it. I'm sure that my breath smelled terrible," Jonas shared. After being asked if he thought Cyrus remembered his pizza breath, he stated, "I don't know. I'd have to ask her. But I'm sure she does — it was probably pretty potent."
According to E!, Jonas and Cyrus were an item in 2006 and they were both just 13-years-old, with Cyrus revealing to Seventeen magazine (via People), "He was on a quest to meet me, and he was like, 'I think you're beautiful and I really like you.' And I was like, 'Oh, my gosh, I like you so much.'" However, their romance was short-lived with the couple splitting a year later. 
Josh Hutcherson had his first kiss in Little Manhattan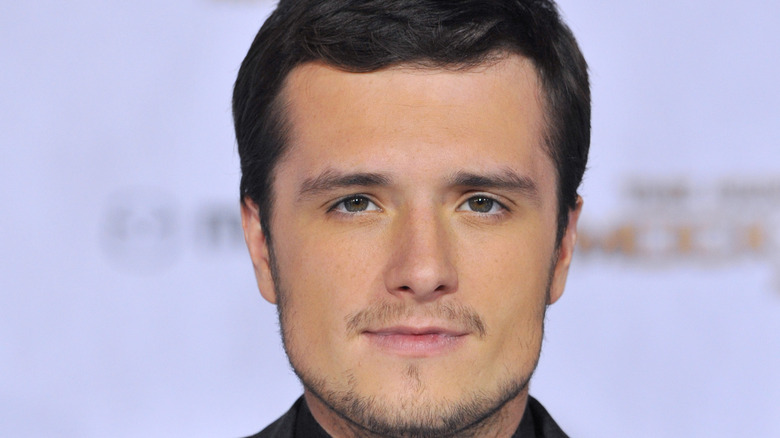 Having to kiss someone on screen can be a little awkward, but having your first kiss in front of hundreds of people made up of camera crews and production for a film can make it scarier. Actor Josh Hutcherson, best known for his role in "The Hunger Games" franchise recalled to Seventeen magazine that his first kiss occurred on the set of the 2005 film "Little Manhattan" when he was just 11-years-old!
He shared, "I was filming in New York City and my mom surprised me by flying my dad in for the kiss scene for support. But it was a horrible first kiss because I had like a crew of 50 people standing around and watching me. It was the most non-real, non-intimate moment that I could possibly have my first kiss, I think." 
According to the magazine, the scene was meant to be a little nerve-wracking for Hutcherson, so having it be his first kiss made it that much more perfect for the film. 
Dove Cameron's first kiss was with co-star Luke Benward on Cloud 9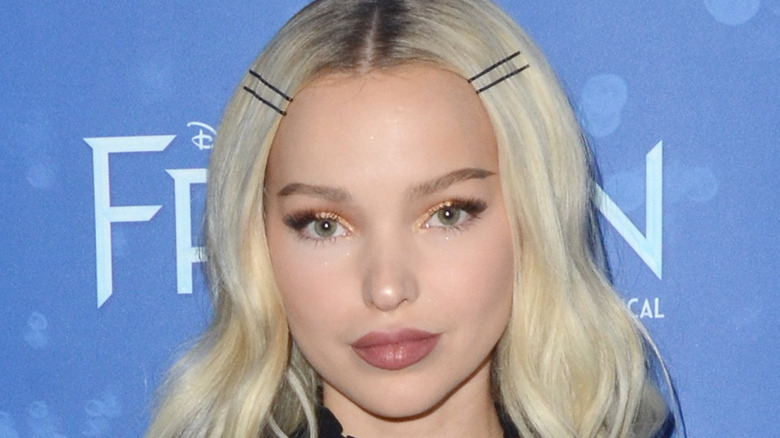 Actor Dove Cameron recalled her very first kiss with co-star Luke Benward while auditioning for the role of Kayla Morgan in the 2014 Disney film "Cloud 9." The film centers around Cameron's character, a snowboarder, who is forced to train with ex-snowboarding champion Will Cloud, played by Benward. In the film, Morgan must prove to Cloud that she has what it takes to make it as a professional, while he tries to get back into the sport. 
Cameron told Seventeen magazine that she was 17-years-old when she had her first kiss with Benward. "We had to kiss in the audition in order to get the role. I was so shy you guys, so intimidated and he's like this massive, like, mountain man, even when he was like 17. And Disney Channel had us come in to test our chemistry and they were like, 'Alright, now you guys have to kiss,' and I was playing it cool,'" Cameron dished, adding, "And then, I was kind of like, ooh, I get to kiss a dreamy guy, back when I was 17. And then I had to actually do it and the time arrived and it was …. pretty intimidating. And then somebody asked me if I needed gum and I said yes and then they said they were joking."
Kate Beckinsale described her first kiss as 'bleak'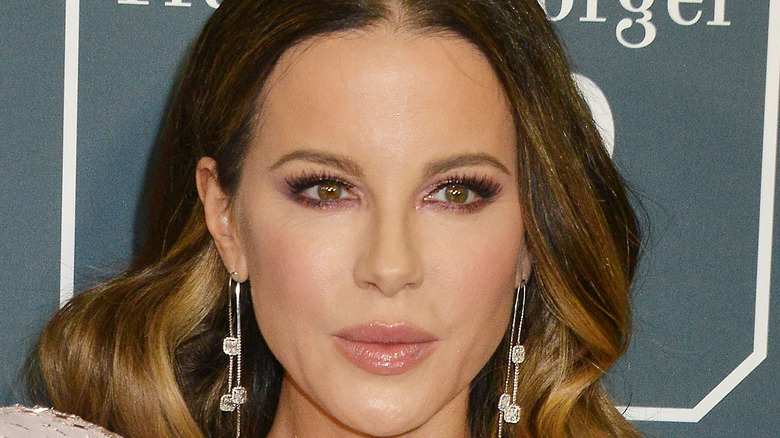 Actor Kate Beckinsale has starred in several blockbuster hits so it would be easy to assume the starlet knows a thing or two about mastering the perfect kiss. However, before she was a famous Hollywood star, Beckinsale told James Cameron on "The Late Late Show with James Corden" about a horrible first kiss experience that she will never forget. 
"It was so bleak. I'm not surprised I ever kissed anyone again after that. I was quite a late bloomer … All my friends had done it," she began, adding, "I thought, well, I'm going to have to kiss somebody, otherwise I'm weird. And I was at a party and the person who wanted to kiss me was American, of course. It led me on a terrible path I'm now stuck on. Anyway, I was a really militant vegetarian at the time and he had just eaten a meat lover's pizza. Massive trauma … I thought kissing was a dry experience but as it was all happening I realized, oh, there's all kind of wet activity inside the other person's mouth with lots of bits of sausage in as well. "
After her awkward first kiss, Beckinsale told the host that she immediately called her mother to pick her up, telling her, "I need to go home now, I've had a horrible experience with some meat." 
Ed Sheeran dishes on his first tongue kiss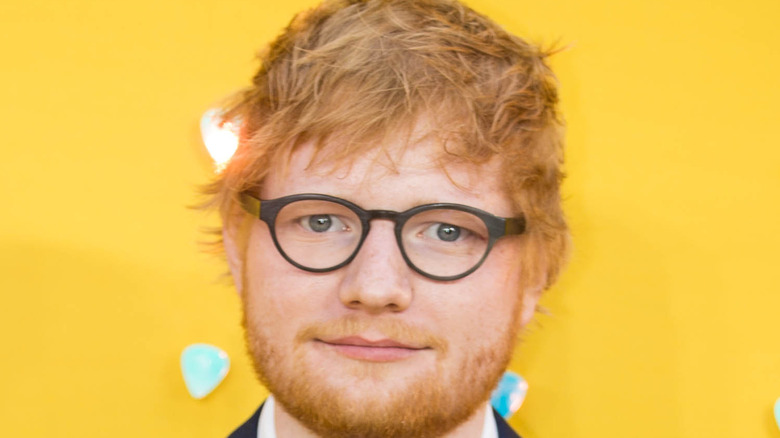 Fans swoon at singer Ed Sheeran when he sings his most romantic songs, but before he became the megastar he is today, he dished to ANDPOP about his first-ever kiss with tongue, which was anything but passionate. 
The "Thinking Out Loud" artist said, "My first kiss with tongues was probably like everyone's first kiss with tongue. I think if you watched a lot of "One Tree Hill" or "The O.C.," your first kiss with tongue would probably be on point because you'd study it, but I hadn't seen any of those programs. I think the first kiss I saw on TV was in a James Bond movie, where Pierce Brosnan just goes in with tongue, so yeah, it was one of them! Very awkward and wet."
As for his very first kiss, Sheeran appeared on the TV special "Elton John: The Nation's Favourite Song," and admitted that he locked lips with a girl while the song "I Guess That's Why They Call It the Blues" was playing, stating, "So I remember that very clearly!" 
Mila Kunis ended up marrying the guy she shared her first kiss with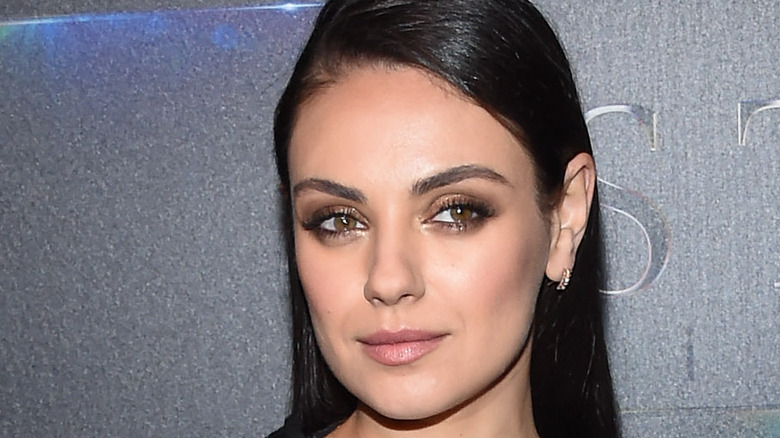 Mila Kunis and Ashton Kutcher met while working together on the hit sitcom "That 70's Show," but the Hollywood stars never struck up a romantic relationship. While both actors had their fair share of romances in Tinseltown, it wasn't until 2012 that they reconnected at the 69th Golden Globe Awards and sparks flew (via Insider). As Kunis told Marc Maron on his "WTF" podcast, "I thought it was the weirdest thing that I was checking this guy out, and it was someone that I had known forever." The stars began dating and welcomed their first child together in 2014, a daughter named Wyatt, tied the knot the very next year, and welcomed a son in 2016, named Dimitri. 
Fate may be a perfect word to describe this Hollywood marriage as Kunis shared to People that her very first kiss was to Kutcher while on "That 70's Show." She stated in 2001, "I was like, 'Oh, he's so cute, it's the Calvin Klein model!' Then I was like, 'I have to kiss him?' I was so nervous and uncomfortable. I had the biggest crush on him.'"
According to Kutcher, he had no idea that his future wife was about to have her first kiss with him. He told People, "I'm so glad I didn't know that or it would've been too much pressure … I was the one with the butterflies in my stomach. I mean, here's this little girl and I have to kiss her. It was nerve-racking."
Charlize Theron was prepared for her first kiss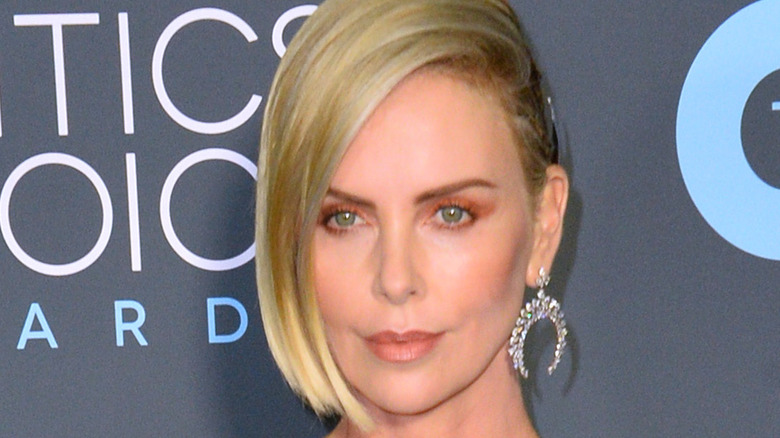 Even big named stars like Charlize Theron have had their fair share of awkward moments, including her very first kiss. The "Mad Max" actor told NYRock (via Bustle) in 2000 that her first kiss involved braces and a horror movie. She shared, "Anyway, it was in the backyard after we just had watched "Friday the 13th." What a real romance movie! So we were just standing there because it was so planned. Like okay, you're gonna come over, watch a movie, then we kiss. His name was Nicky. We were standing in the backyard and I'm like, 'you wanna do it, you wanna do it? Well, okay, let's do it.' And we're standing there arguing about it for so long, it was just awful. But then it was darkness, saliva, and tongue.'"
Unfortunately for Theron, she dished while on Jimmy Kimmel Live that she also has a terrible first date experience in her 20's that was going really well but ended disastrously when her date stated, "Make out with my nose," adding, "I swear on my life, I've never forgotten it because I've yet to meet another person who likes to have somebody make out with their nose. I've never met another person who wants to do that." 
Source: Read Full Article