'Never Have I Ever' Star Maitreyi Ramakrishnan Reveals If She's Team Ben or Team Paxton
The first season of Never Have I Ever has come and gone. Viewers have been introduced to Devi's nemesis and eventual love interest, Ben Gross, as well as to her hunky crush, Paxton Hall-Yoshida.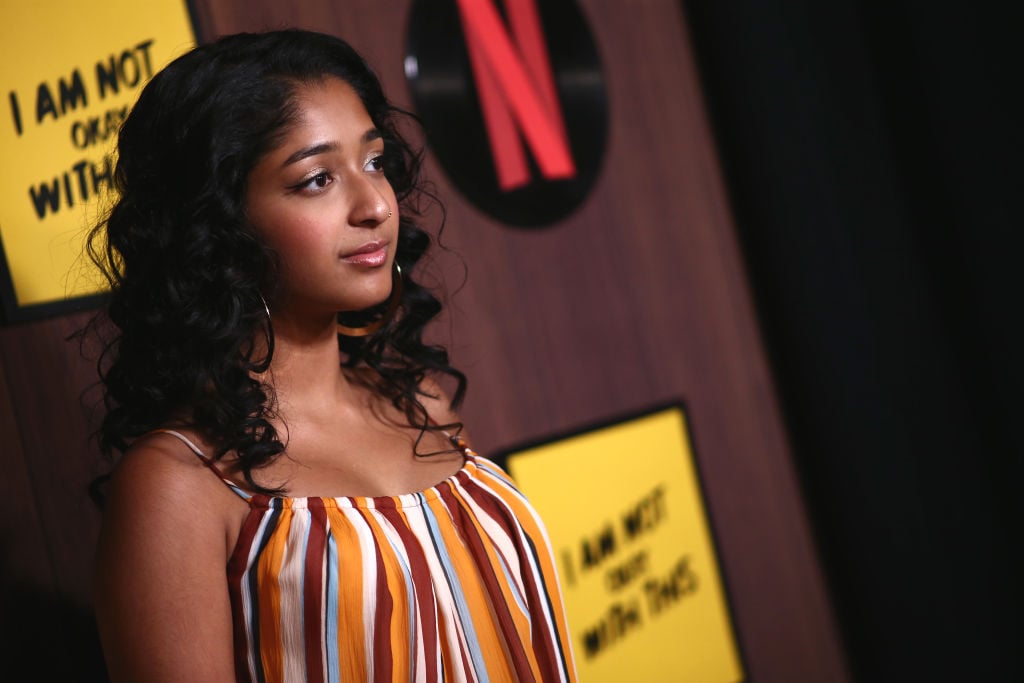 RELATED: 'Never Have I Ever': Mindy Kaling Explains Why Only John McEnroe Could Be Narrator of Her Netflix Series
Now's our chance to find out if actress Maitreyi Ramakrishnan, who plays teen lead Devi Vishwakumar in the Netflix series, is Team Ben or Team Paxton.
Team Ben has potential
Would Devi choose Ben Gross, who she made out with in the season finale of the Netflix series? The 15-year-old, whose father dies when the series begins, has to move on with her life, painfully and filled with grief. 
Ben, who starts off in the Netflix hit as Devi's nemesis, turns out to be a possible boyfriend for her by the finale. But should she date him?
RELATED: 'Never Have I Ever': Who Plays Ben Gross, Devi's Nemesis?
"I think that Ben relates to Devi in a lot of ways and he definitely cares for her," actor Jaren Lewison who plays Ben, told Insider in May 2020. "He's genuine about it. I like that they challenge each other, personality-wise and academically."
The 20-year-old actor touched on the unexpected love story that sprang up between Ben and Devi. The two went from loathing one another to understanding one another a bit more and from there affection grew.
"I think those romantic feelings developed when they saw different sides of each other," he said. "You know, when Ben saw how driven and smart and witty and kind Devi could be, starting in even episode two and going up."
All about Paxton Yoshida Hall
Paxton Yoshida Hall was famously propositioned by Devi. She asks him straight up in this first season to get intimate. It's her desperate nerd's way of becoming cool instantly. 
At first, it seems it's game on for the two, but Devi realizes she doesn't know Paxton well enough at all to take that step. 
RELATED: 'Never Have I Ever' Paxton: Everything We Know About Actor Darren Barnet
The 29-year-old actor who plays Paxton Yoshida Hall is Darren Barnet and he's got his own opinion on Team Ben vs. Team Paxton. You can probably guess which team he's cheering for. 
Barnet spoke with Bustle in May 2020 with his two cents.
"[Ben's] been absolutely terrible to her his entire life," he says. "He's very, very obsessed… with being cool. Let's not forget guys, he has a girlfriend when he kisses Devi at the end. I don't like that."
Barnet notes that Paxton, unlike Ben, has "been there for Devi and he's not afraid to let everyone know that he cares about her."
The team Maitreyi Ramakrishnan is rooting for
The 18-year-old Ramakrishnan explained to StyleCaster in Apr. 2020 what Devi was thinking in approaching Paxton so brazenly.
"A lot of kids, especially in high school, feel the need to compensate and lie about their life, especially in a way, where it's like, 'If somebody can't prove it, what's the harm in lying about it?' It's not necessarily that she wants to lose her virginity. What Devi wants is to be happy. She really just wants to win. It's greater than just a classroom grade. Sometimes a lie seems better. It's cooler than reality." 
Ramakrishnan, who beat out 15,000 other actors for the role of Devi, revealed which team she knows her show's character would be on.
"I've been asked if I'm Team Paxton or Team Ben. I'm like, 'That's disgusting. That sounds lame.' Personally, I'm Team Devi," she continued in her conversation with StyleCaster. "I can't say either of them; I think she needs to figure out herself and also make it up to Eleanor and Fabiola. She still has some work to do with her homegirls who have been there since day one."
RELATED: Is 'Never Have I Ever' Renewed for Season 2 on Netflix? There's Hope for More Episodes
Source: Read Full Article