Rob Schneiders Most Controversial Moments Ever
There was a time when Rob Schneider was one of the most ubiquitous faces in big screen comedy. Yes, at the turn of the century, the Californian had become a regular of Adam Sandler's hugely popular man-child universe, fronting box office hits like "Deuce Bigalow," "The Hot Chick" and "The Animal." He even got to appear alongside comic titans Kermit the Frog and Miss Piggy!
But in more recent years, the father of soul singer Elle King has become more renowned for his outspoken nature than the slightly formulaic movies so brilliantly skewered by "South Park" ("Rob Schneider is … A Carrot!").
Indeed, the "Saturday Night Live" alum has weighed in on everything from the civil rights movement and COVID-19 to cancel culture, and his opinions were not always so welcome. In fact, he's rubbed plenty of people the wrong way in the process. Here's a look at 14 of Schneider's most controversial moments.
Rob Schneider whitesplains civil rights to John Lewis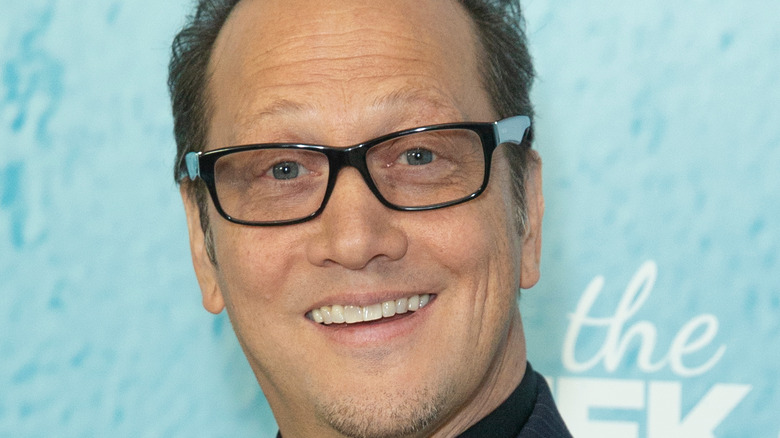 You probably wouldn't expect the names Rob Schneider and Martin Luther King Jr. to appear in the same news story. But that's exactly what happened in January 2017 when the star of "Deuce Bigalow: Male Gigolo" tried to explain the civil rights leader's legacy. To a man who once walked side-by-side on a historic march with MLK himself.
Schneider's whitesplaining began after hearing that Congressman John Lewis wouldn't be attending the inauguration of Donald Trump. Directly addressing the man who joined King on the historic Selma to Montgomery march of 1965, the actor wrote in a since-deleted tweet (via USA Today), "You are a great person. But Dr. King didn't give in to his anger or his hurt. That is how he accomplished and won Civil Rights."
Lewis, who died three years later, didn't respond to Schneider's tweet, which coincidentally occurred on Martin Luther King Jr. Day. But plenty of others did, including fellow actor Wil Wheaton, who responded, "Rob Schneider lecturing [John Lewis] is the most embarrassing thing he's ever done. Yes, this includes "The Animal.""
Rob Schneider defends himself from whitewashing accusations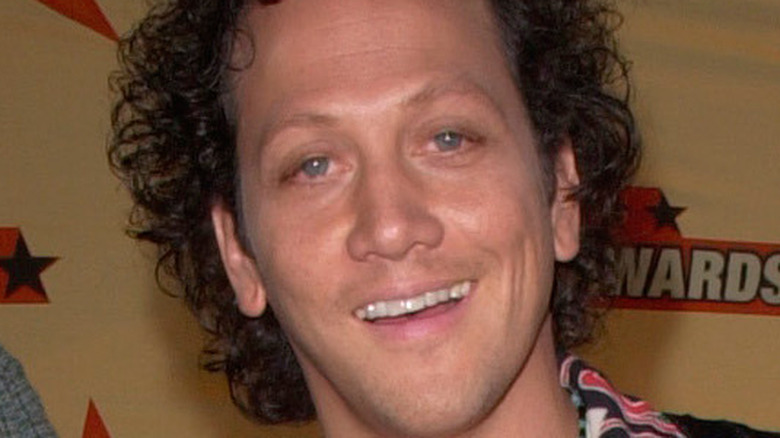 Rob Schneider's list of film roles reads like a one-man United Nations. In "Big Daddy" he showed up as a Middle Eastern food delivery guy. And in "50 First Dates" he portrayed a Native Hawaiian stoner. But perhaps most controversially, Schneider was also cast in "You Don't Mess with the Zohan" as a Palestinian terrorist. Yes, perpetuating stereotypes certainly doesn't appear to be a concern for the "Saturday Night Live" graduate, that's for sure. And the actor, who's half Filipino and half white, didn't exactly do himself any favors when he penned an open letter to The New York Times in 2005 defending his representation of various ethnicities — particularly his part in "50 First Dates."
Schneider referred to Orson Welles' leading performance in "Othello" and Eli Wallace's turn as a Mexican in "The Good, the Bad and the Ugly" as examples of Hollywood casting the best man for the job regardless of their roots — though many would argue otherwise, as this colorblind approach to casting typically only goes one way. The comedian had been compelled to contact the newspaper after a tribute to the late Pat Morita decried the lack of opportunities in Tinseltown for Asian talent.
Rob Schneider argues Shane Gillis shouldn't have been fired from 'SNL'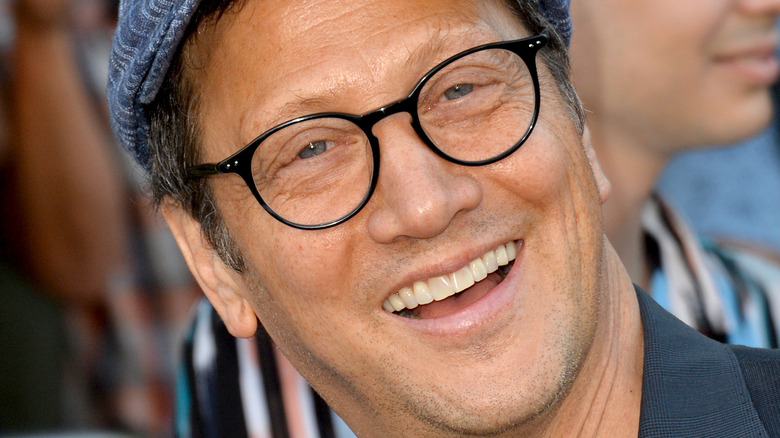 Considering his questionable history playing various ethnicities, Rob Schneider isn't the first person you'd go to for a nuanced take on a racism scandal. Yet the comedian added his two cents to the controversy surrounding disgraced standup Shane Gillis.
In 2019, Gillis was fired from "Saturday Night Live" before he'd even graced a single episode after homophobic and racist remarks made on the "Matt and Shane's Secret Podcast" resurfaced in the wake of his casting. While the comic's instant dismissal was greeted with applause from most of his peers, Schneider believed that the late night institution had been too hasty with their response.
Addressing Gillis directly, the "Big Stan" director tweeted, "As a former 'SNL' cast member, I am sorry that you had the misfortune of being a cast member during this era of cultural unforgiveness where comedic misfires are subject to the intolerable inquisition of those who never risked bombing on stage themselves." According to The Independent, Schneider did acknowledge that Gillis should never have made such comments but believed that a "sincere apology" rather than a firing would have been a more suitable punishment. As you'd expect, this suggestion didn't go down too well, with "Brooklyn Nine-Nine" actress Chelsea Peretti sarcastically tweeting in response, "Yessssssssss he got the Rob Schneider endorsement!"
Rob Schneider believes vaccines cause autism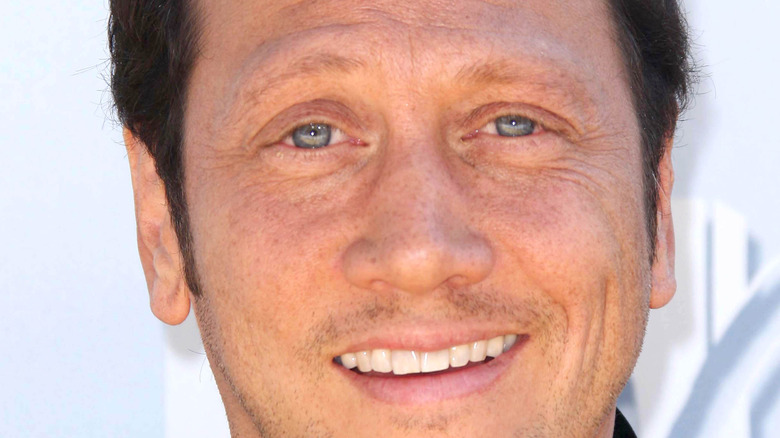 In a 2012 interview with News10 Sacramento, via the Huffington Post, Rob Schneider joined celebrities like Jenny McCarthy and Kristin Cavallari in the exclusive club of Hollywood anti-vaxxers. The "Real Rob" star confirmed his stance by espousing the disproved theory that vaccinations are linked to autism, fighting a new state law in California which only allowed children with a physician's signature an exemption from being jabbed.
Schneider said, "It's illegal. You can't make people do procedures that they don't want. The parents have to be the ones who make the decisions for what's best for our kids. It can't be the government saying that. It's against the Nuremberg Laws." The actor also disputed the efficacy of such vaccines, claimed that more side effects were being reported and that doctors' advice was influenced heavily by the money-making pharmaceutical industry.
And he wasn't done there. Schneider later embarked on a feud with Lorena Gonzalez, an assemblywoman who'd co-authored a bill which prevented parents from citing personal beliefs as a reason for refusing to vaccinate their kids. Following a phone conversation about public health with the star of "Surf Ninjas" in 2015, Gonzalez revealed on Facebook, via The Sacramento Bee, "He was actually much nicer to me, but let's be honest … that is 20 mins of my life I'll never get back arguing that vaccines don't cause autism."
Rob Schneider called for an Oscars boycott over political correctness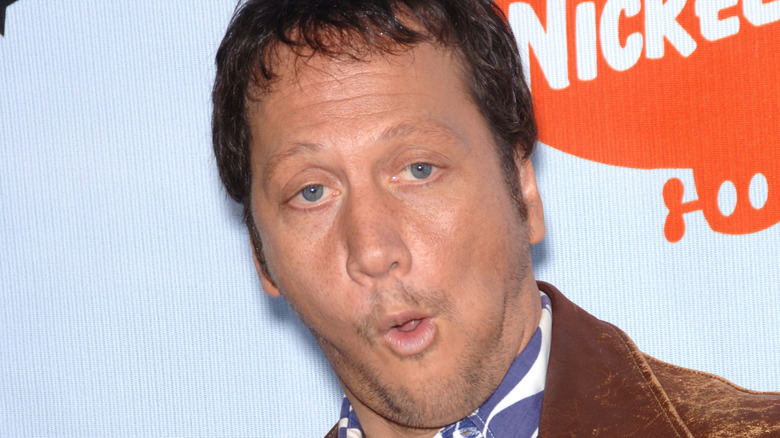 Ellen DeGeneres wasn't the only star who publicly supported Kevin Hart following the backlash over his appointment as the 2019 Oscars host. The funnyman, who'd turned down the coveted gig amidst the resurfacing of previous homophobic remarks, was also backed up by Rob Schneider.
Indeed, just like the daytime chat show host, Rob Schneider also believed that it was all a fuss over nothing. After tweeting, per Rolling Stone, per Rolling Stone, "Comics are the ones who are supposed to say the horrible things we all think but don't," the stand-up borrowed a line from the late great George Carlin: "Political correctness is just fascism disguised as manners." Per IndieWire, Schneider then implored his followers to boycott the Academy Awards if Hart wasn't given a second chance. The tweet has since been deleted.
It seems fair to say that Schneider's crusade didn't have much of an impact. Not only did Oscars organizers decide they'd rather go hostless than reinstate Hart, but ratings for the show actually increased by nearly four million!
Rob Schneider was sued for investment fraud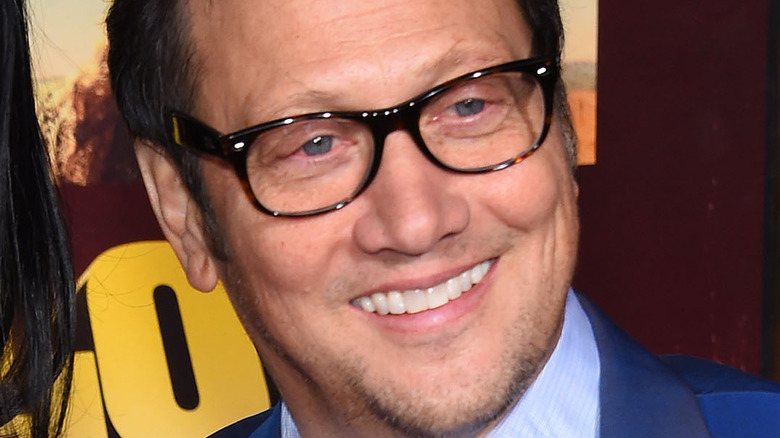 In 2012, married couple Nancy and George Gamble sued Rob Schneider for investment fraud after claiming that the $1.5 million they'd put into a film project was used for personal means, according to The Hollywood Reporter. The pair had reportedly been promised a $225,000 return on their investment into the post-production on 2010 comedy drama "The Chosen One." But they ended up taking Schneider, who starred, directed and produced the movie, and his brother John to court after failing to see a single cent return.
Also starring the likes of Holland Taylor, George Dzunda and Steve Buscemi, the tale of a car salesman repeatedly saved from suicide by various figures never even made it into cinemas — it was eventually released direct-to-DVD three years after shooting wrapped. But the Schneiders insisted that there was never any guarantee that the movie would reap financial rewards.
In an official statement to THR, Rob's legal counsel Eric Lorenzini said, "The Gambles' funds were used exactly as agreed upon by the parties. While the Schneiders, like the Gambles, are disappointed that the film was not as successful as hoped, that is a risk inherent in any investment of this type. The Schneiders are confident that the court will find that there's no basis for any of the Gambles' claims."
Rob Schneider got Phil Hartman's friend fired from 'SNL'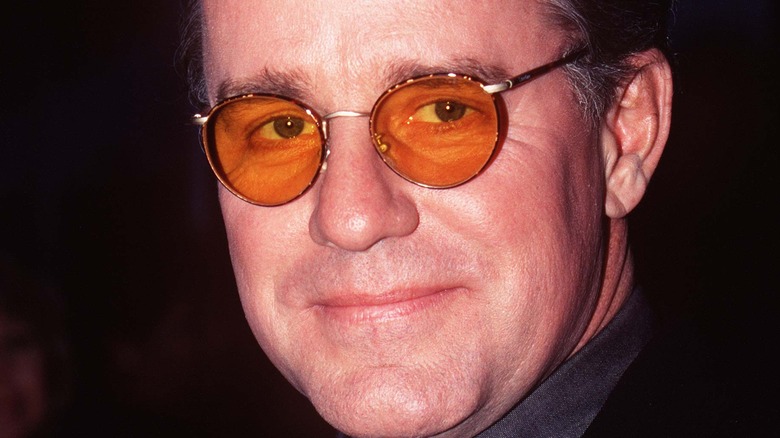 The late Phil Hartman always appeared to be one of the most genial names in the early '90s "Saturday Night Live" line-up. But castmate Rob Schneider once incensed him so much that he allegedly threw him up against a wall.
The story came to light thanks to David Spade, another "SNL" alum who often butted heads on the series with the future "Deuce Bigalow" star. While promoting his memoir, "Almost Interesting" on "The Howard Stern Show," the comedian recalled, via UpRoxx, how Hartman had managed to wrangle an internship for a family friend on "Weekend Update." Unfortunately for said intern, Schneider's girlfriend got jealous of the attention she received and subsequently persuaded her other half to have her fired.
After hearing about the incident, Hartman allegedly got physical with Schneider and threatened to "put a bullet in [his] head." Spade actually left this incident out of his book but did include many other stories about his time on "SNL," which didn't exactly paint Schneider in the best light. Still, Schneider and Spade have since gone on to address their issues, according to UpRoxx and repair their relationship.
Rob Schneider invokes the second amendment in the COVID-19 vaccine debate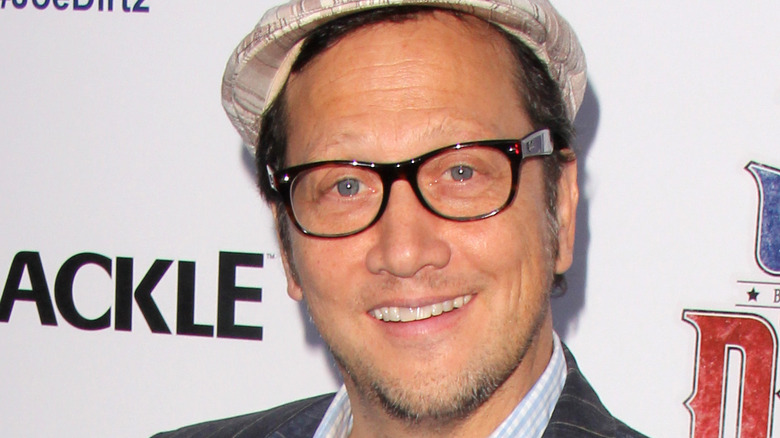 Rob Schneider has been a vocal advocate of the anti-vaccine movement since the early 2010s. But he took things to new levels during the COVID-19 pandemic when he invoked the second amendment (the right to bear arms) in the whole debate.
The drama began when the Adam Sandler regular retweeted a report about those who had already been vaccinated needing to receive a booster jab. He then commented, "Just say no … And keep saying no … Over half of the US population is continuing to say no to this unapproved experimental gene therapy." After borrowing the abortion rights slogan, "My body, my choice," Schneider then used the hashtag, #2ndAmendmentIsForThis." The actor had previously done the same for a tweet supporting Tucker Carlson's warning that the U.S. government would soon be enforcing mass inoculation.
Even Twitter recognized that things had gone a bit too far on this occasion, though, tagging the post as misleading. Fact checkers pointed out that pretty much every part of the tweet — from the claim that more than 50 percent of Americans were on his side to the use of the word "unapproved" — was false. But for some, it was the threat to use guns if necessary that was the most shocking overall.
Rob Schneider took out a full-page ad to blast a critic
With a Rotten Tomatoes rating of just 9%, 2005's "Deuce Bigalow: European Gigolo" is one of the worst-reviewed films of Rob Schneider's career. And Patrick Goldstein of the Los Angeles Times perhaps delivered the most scathing putdown when he wrote that the film was "sadly overlooked at Oscar time because apparently nobody had the foresight to invent a category for Best Running Penis Joke Delivered by a Third-Rate Comic."
You'd think that such a response would be like water off a duck's back for Schneider, a man who has never exactly been a critical favorite. However, Goldstein's remark obviously touched a nerve as the comic later took out full-page ads in both The Hollywood Reporter and Variety which read, via Page Six, "Maybe you didn't win a Pulitzer Prize because they haven't invented a category for Best Third-Rate, Unfunny Pompous Reporter Who's Never Been Acknowledged by His Peers."
While appearing on Marc Maron's podcast "WTF" (at the 1:19 mark) in 2013, Schneider claimed that he'd now learned to deal with criticism in a less confrontational way: "At first, you have to know that there's two sides to every coin … So the one side of it, the negative side could be like, 'Well they hate me, they don't like my movies.' Or the other side, 'Y'know what? Maybe they're letting me free and I don't have to worry about pleasing them. Ever.' And that's the other side to that."
Rob Schneider takes aim at tech giants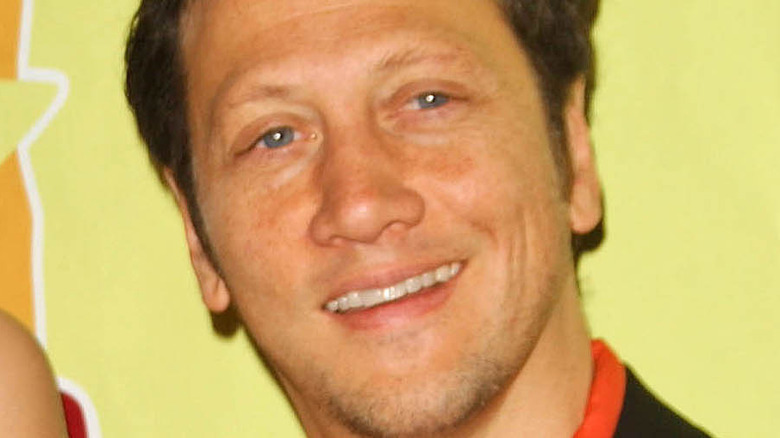 Rob Schneider added a whole host of tech giants to his list of enemies in 2019 while sticking it to the man in a Twitter rant about free speech. The "Saturday Night Live" alum, a proud anti-vaxxer, went on the warpath in response to various companies limiting the spread of dangerous misinformation about the link between autism and inoculations.
Schneider wrote, "'Sorry to have to repeat this again: Free Speech is ALL speech. Even the speech that you find repugnant. You are either for ALL of it or … you are for none of it. We don't need people deciding FOR us what to think, see or hear. That's a load of totalitarian crap."
The Californian then went on to slate Amazon specifically for its ban on books that "question medical orthodoxy," and Google, YouTube and Facebook for its apparent burying of information. He added, "The push within democratic societies to further restrict their own freedoms is a road we mustn't take."
Rob Schneider claims Robin Williams' suicide was linked to Parkinson's drugs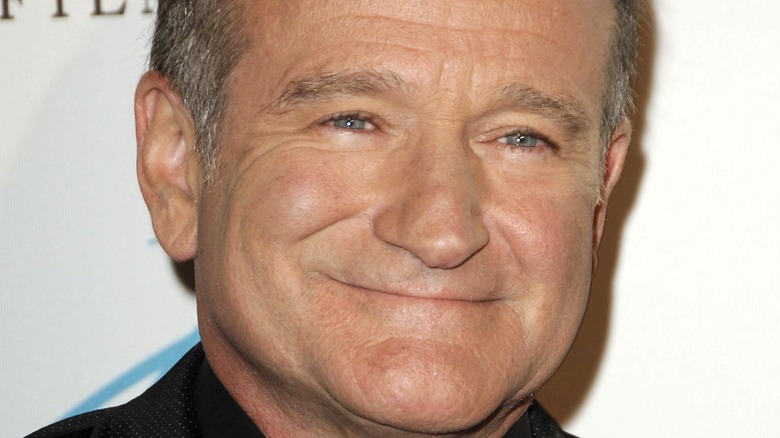 Rob Schneider didn't waste any time in sparking a conspiracy theory about his late friend Robin Williams' death. Just a week after the comedian died by suicide in 2014, the "Deuce Bigalow" star controversially claimed on Twitter, via HuffPost, that medication for Parkinson's disease had been a contributing factor.
News that the "Mork and Mindy" star was allegedly suffering from the condition only emerged after the tragedy. And Schneider, who'd been pals with Williams for two decades, insisted that the "evil pharmaceutical industry [that] admits to over 100,000 people in the USA die a year from prescription drugs" was to blame. He then dismissed anyone who challenged his statement, "Check out all the Big Pharma Trolls climbing out from under the sludge! See how ugly they are!"
One of the "big pharma trolls" Schneider theoretically could have been referencing was Dr. Irene Richard, the University of Rochester Medical Center's professor of psychiatry and neurology, who told ABC News, "Suicide is of no more concern in patients with Parkinson's versus those who don't have Parkinson's." Back at the turn of the century, a study conducted by Howard University discovered that sufferers are actually far more unlikely to die by suicide.
If you or anyone you know is having suicidal thoughts, please call the National Suicide Prevention Lifeline​ at​ 1-800-273-TALK (8255)​.
Rob Schneider takes pot shot at Kamala Harris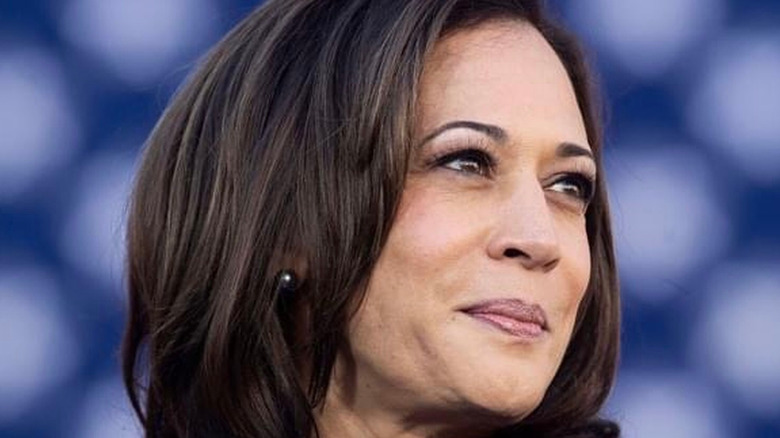 We can probably guess which box Rob Schneider didn't tick on his ballot paper for the 2020 presidential election. On the big day, the comedian took to Twitter to blast the Democrat party's vice presidential nominee for a video she'd posted about the differences between equity and equality.
In the clip, Kamala Harris says, "Equality suggests, 'Oh everyone should get the same amount.' The problem with that, not everybody's starting out at the same place. So if we're all getting the same amount, but you started out back there and I started out over here — we could get the same amount but you're still going to be that far back behind me." Joe Biden's running mate and eventual VP then argued that giving individuals the tools they require to achieve an equal footing is of the utmost importance.
But Schneider, who shared the screen with the Republican candidate Donald Trump in "Home Alone 2: Lost in New York," didn't agree. In a strongly-worded tweet, the comedian responded, "Socialistic, Marxist Drivel from the prospective Vice President. America's promise is equality and opportunity for all! It is NOT a promise of the SAME OUTCOME for ALL! It is YOUR individual HARD WORK and SWEAT & TALENT that determines your success! A 'big difference' indeed!"
Rob Schneider trashes the state of California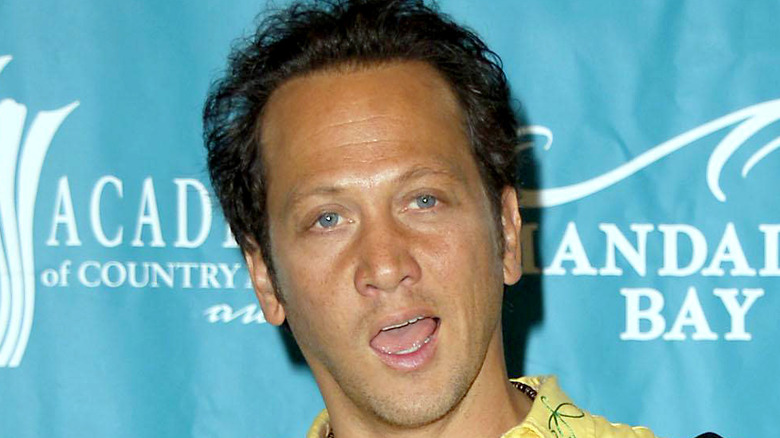 In a 2013 chat with web series PolitiChicks, Rob Schneider revealed that he hadn't made a film in the area for more than five years. And it was all because of Democrats, according to him.
Schneider, who was being interviewed alongside Tim Donnelly, an assemblyman in the Golden State, revealed that he'd previously been a lifelong Democrat but felt he now had no option but to give the Republicans a go: "The state of California is a mess, and the supermajority of Democrats is not working … We need to have a new voice. We need to have a new direction, and we need to break the supermajority. It isn't helping with jobs."
The comedian's concern over jobs was slightly contradicted by the fact that he'd just relocated his own vitamin firm to another state due to "overregulation." He added, "Another four years of a Democratic administration will be a disaster to this state, as it already has been." And he was still on his soapbox six years later when he tweeted (via The Washington Times), "Unfortunately, people in California would vote for a bowl of s*** if it had 'D' next to it."
Rob Schneider attacked Mel Gibson in trade ad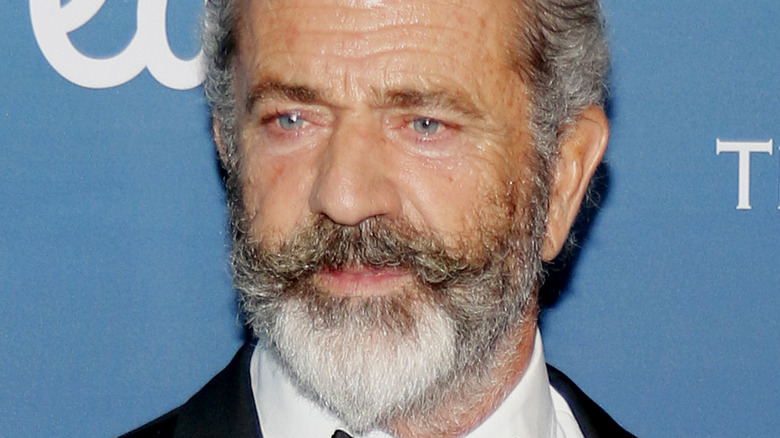 While many have criticized Rob Schneider's reactions to social issues, this is one response that put him in alliance with the general public. As it turns out, Schneider's 2005 criticism of "Deuce Bigalow: European Gigolo" isn't the only time he's taken out a full-page ad in Variety magazine. Just a year later, the comedian also made his disdain for Mel Gibson widely known.
Yes, after news emerged that the Aussie had used anti-semitic slurs while being arrested on a DUI in California, Schneider followed in the footsteps of industry legend Bernie Brillstein by publicly criticizing the "Braveheart" star. He began, via Hollywood.com, "I, Rob Schneider, a 1/2 Jew, pledge from this day forth to never work with Mel Gibson, an actor-director-producer and anti-Semite."
The comedian then claimed he'd refuse any offer to appear in "The Passion of the Christ 2" — a noble gesture but one many pointed out was unlikely ever to be necessary. He then stated that although Gibson would have been ideal for the role of a Nazi gang leader in his directorial debut, "Big Stan," he could now never bring himself to cast the disgraced actor.
Source: Read Full Article