'Schitt's Creek' Could Have a Spinoff — But Not For a Long Time
When Schitt's Creek signed off with its final episode on April 7, its many fans were left bereft. But a rumor soon started to circulate that they may not have to live without all of their favorite characters forever. Would the producers of the beloved show consider a spinoff? It's a time-honored way to keep the story going when the original series has ended. Granted, it doesn't always work out that well, but it's a chance that Schitt's Creek fans are prepared to take.
Is there anything to the rumors? Here's what you need to know about the possibility of a spinoff.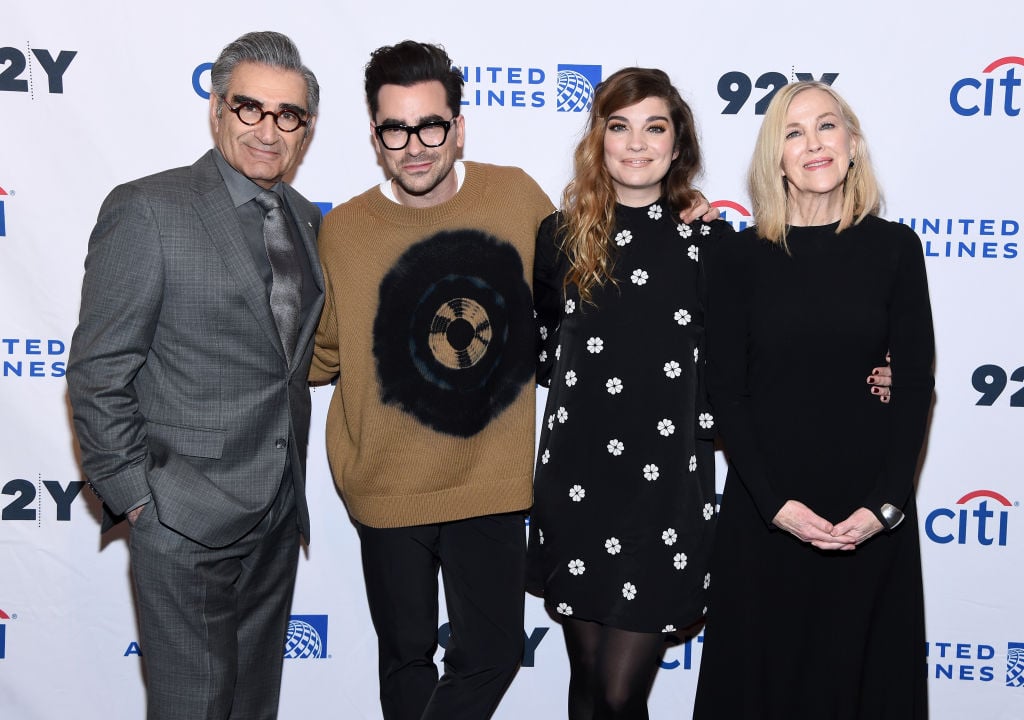 Schitt's Creek was an unexpected success
The show's co-creators are the father/son team Eugene and Dan Levy. They originally pitched the show in the US, but when they didn't get any interest they looked to Canada, their home country. The show was picked up by CBC, which led to the US network Pop (formerly TV Guide Network) signing on as well. The show didn't start off in 2015 with a huge viewership, but it grew each year, and when Netflix picked it up in 2017 it gave it another significant boost.
The unique show is about the Roses, four members of a wealthy family who lose everything and are forced to live in Schitt's Creek, a town they bought as a joke. Eugene and Dan play the father and son, Johnny and David. The mother of the family, Moira, is played by Catherine O'Hara and the daughter Alexis is played by Annie Murphy. The quirky, funny show not only earned devotion from its fans, but the cast also loved everything about it. 
The show was Annie Murphy's big break
Murphy was almost passed over for the part of Alexis for a couple of reasons. First, she wasn't considered a comedic actor, because the few small parts she'd done up until then were in dramas. She was dying to get into comedy, but she wasn't taken seriously. Secondly, Alexis was supposed to be blonde, while Murphy's hair is brown.
Fortunately for everyone, Dan convinced his dad Eugene to give Murphy a shot. She definitely made the character her own. Today she gets recognized in airports, and she even has a catchphrase from the show — "Ew, David!" — even though she apparently only said the phrase twice during the show.
Will there be a spinoff?
Recently Murphy was asked about the possibility of a spinoff show. While she was hesitant to share any plans for another show from Schitt's Creek, she didn't say it would never happen. "Dan isn't ruling out something, but …it has to be for a reason," she explained. "He's not just gonna do a spinoff to make more money."
When she was pressed about the possibility, she said that there was hope, but not anytime soon. "It could happen. But as of now, it seems like if it does, it'll be in our distant future."
When asked who a new show would focus on, she is much more forthcoming about who she thinks it should be. Murphy is a big fan of Twyla, played by Sarah Levy. "She's such a beautiful, wise, old soul trapped in the body of this bizarre, sweet, wonderful creature," Murphy said. She even has an idea about what the name of the new show should be — "Just Twyla."
It sounds like there might be hope for fans who are mourning the loss of Schitt's Creek, but it doesn't sound like it will happen any time soon. But the viewers of this quirky comedy are a loyal bunch, so if Twyla or any of the characters are featured in a spinoff they'll be sure to tune in.
Source: Read Full Article