The Awkward Award Show Moment John Travolta Had With Taylor Swift
You never know what's going to happen at the MTV Video Music Awards. Case in point? The 2019 award show, where John Travolta gifted viewers and attendees with one of the most awkward moments in VMAs history. Alongside Queen Latifah, Travolta had the job of presenting a Moon Man to the recipient of Video of the Year. Taylor Swift nabbed that award for her anti-hate anthem "You Need To Calm Down." When collecting her award, she was beaten to the stage by some of her celebrity co-stars from the video, including Jade Jolie, a drag queen and Swift impersonator. 
What happened next was possibly even more awkward than the time Travolta mispronounced Idina Menzel's name, introducing the Tony Award-winning actor as "Adele Dazeem" at the 2014 Oscars. Keep reading to find out how Travolta topped that moment and what Swift really thought about being on the receiving end of yet another infamous MTV VMAs moment.
Both Taylor Swift and John Travolta found the situation funny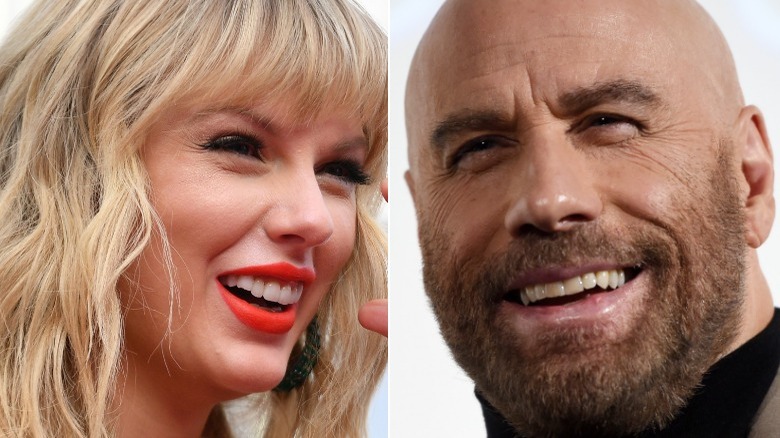 Dressed like the pop sensation herself — blonde wig and all — drag queen Jade Jolie seemingly confused John Travolta, with the actor appearing to take her for the real Taylor Swift and trying to hand her the Video of the Year award at the 2019 MTV VMAs. While it might have been a blink-and-you-miss-it type situation, it was certainly one of the most talked about moments from the whole evening.
During an interview with Hot 93.3 mere days after the award show, Travolta blamed his flub on the fact that there were too many people on stage, explaining that he couldn't find Swift to give her the award. He also touched on his and Swift's longtime friendship, sharing that the pair have exchanged notes over the years. "I thought it was so funny the way it was interpreted," he said, discussing the VMAs blunder. "I sometimes fantasize: what if I had given [the award] to [Jolie]? That would have been awesome. Like, I should've just gone all the way with it."
Although it was an awkward moment, it seems like Swift was able to find the humor in it all. In an interview on Jerry O, Todrick Hall, one of Swift's besties who also appeared in and served as co-executive producer of her "You Need To Calm Down" music video, revealed that the singer found the whole thing "hilarious."
Source: Read Full Article