'The Pioneer Woman' Ree Drummond's Best Comfort Food Recipes
If you're forced to stay indoors, cooking is a great way tospend your time. The Pioneer Woman star Ree Drummond shareda list of her favorite comfort foods in a handy video. Here's a list of some ofthe yummy recipes on Drummond'slist.
Slow Cooker Sunday Stew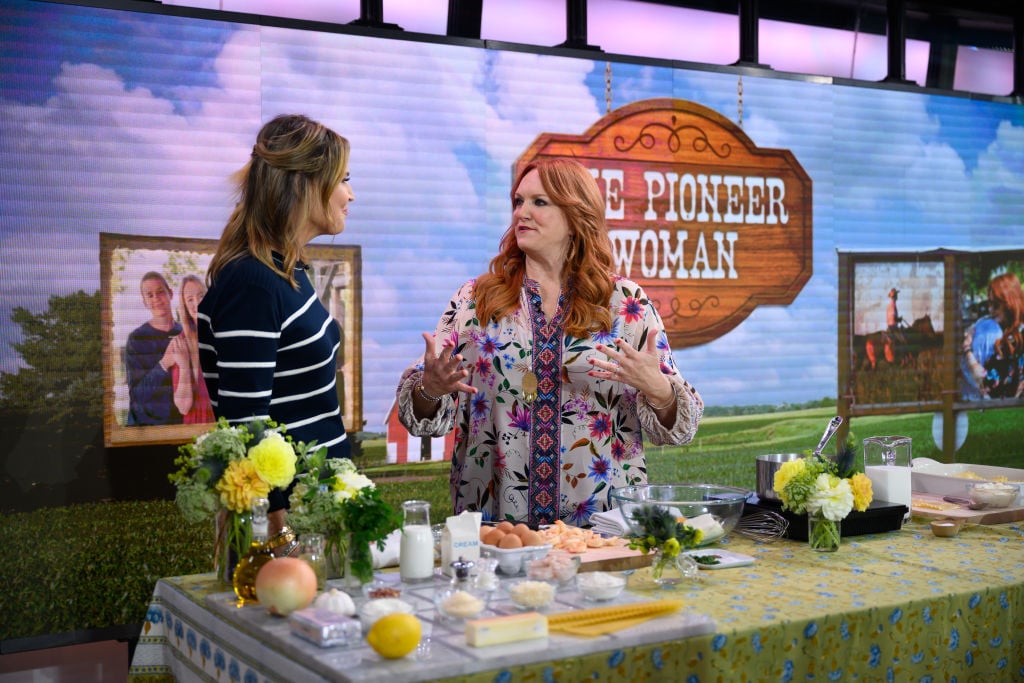 For this slow cooker beef stew recipe, Drummond uses a generoushelping of onions, carrots, fresh parsley, and red potatoes. She also likes toadd chunks of fried bacon. "It can't hurt, can it?" she asks during ThePioneer Woman show. If bacon isn't enough excitement for you, Drummond alsouses half a bottle of beer as her cooking liquid. She tops it off with tomatopaste, a jalapeño, garlic, beef broth, and Worcestershire sauce. Drummond then pairsthe beef stew with fettucine.
Lasagna
Most would agree Lasagna is the ultimate comfort food.Drummond inserts flavor into her lasagna by adding three pounds of ground beefand two pounds of pork sausage. She also adds minced garlic, diced tomatoes, tomatopaste, salt and pepper, and fresh herbs. Instead of ricotta, Drummond uses a parmesanand cottage cheese mixture.
Creamy mashed potatoes
If you like creamy mashed potatoes, this recipe is for you. Drummond starts her recipe by boiling five pounds of potatoes. She mixes 1 ½ sticks of butter, 8 ounces of cream cheese, and a cup of heavy cream. For seasoning, she adds seasoned salt, regular salt, and black pepper. Drummond also places additional slices of butter on top of the potatoes.
Chicken and noodles
Another go-to comfort food on Drummond's list is chicken andnoodles. She starts off the recipe by adding chopped onions, carrots, and celery.She then mixes in sliced pieces of chicken, salt, black pepper, ground thyme, halfand half, and turmeric. She uses a flour paste to make the mixture thicker,saying this is what differentiates chicken noodle soup from chicken and noodle.Drummond cuts down on cooking time by using frozen homestyle noodles. She saysthese are the noodles her grandmother used to use.
Stuffed shells
Drummond stuffs her shells with a container of ricottacheese, in addition to grated parmesan cheese and grated Romano cheese. Otheringredients include two eggs, basil, salt, pepper, parsley, and marinara sauce.
"This is a really great meatless meal. I love it because youcan serve the shells with a salad, and that's a great meal in itself," saysDrummond during The Pioneer Woman show. After making the mixture,Drummond stuffs jumbo shells and places them cheese-side down in the marinarasauce. She then tops the shells with another layer of marinara sauce and gratedmozzarella in addition to grated Romano and parmesan cheese. She cooks thisrecipe for 25 minutes at 350 degrees.
Four more comfort foods from The Pioneer Woman
Additional comfort foods inspired by Drummond you might wantto try include corn and cheese chowder, nobake mac and four cheeses, meat pies, and chicken mozzarella pasta.
Read more: MarthaStewart's Net Worth and How She Became Famous
Follow Sheiresa @SheiresaNgo
Source: Read Full Article