'Tiger King' Star Joshua Dial Drops 5 New Bombshells About the Wild Docuseries: 'We Didn't Get Paid for This'
Joshua Dial is one Tiger King star many fans continue to root for. The former campaign manager of Joseph Maldonado-Passage (aka Joe Exotic) has been through a lot since his time in the Netflix docuseries. Now, he's spilling all the tea about what the cameras didn't show. Some of it may surprise even the most devoted Tiger King fans.
Here's what Dial said about allegations 'Joe Exotic' had sex tapes involving animals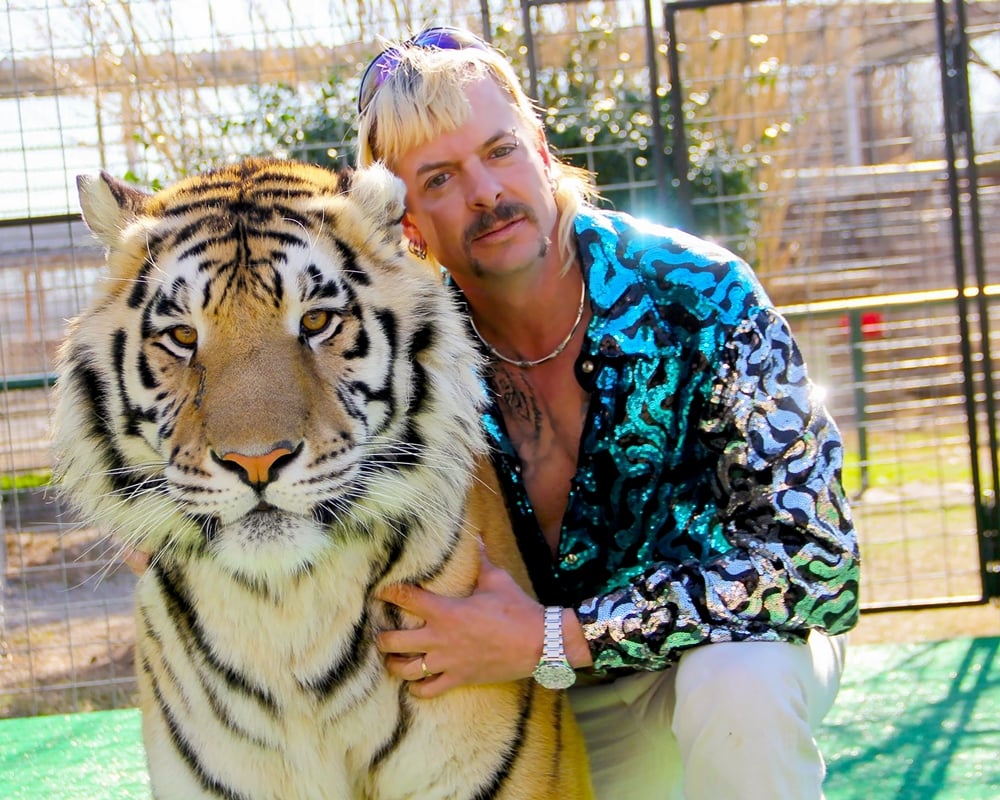 Some of the headlines floating around post-Tiger King may sound more bizarre than the content in the seven-part docuseries itself. One of those rumors includes allegations Maldonado-Passage had videotaped footage of sexual acts involving animals.
Dial recently spoke with The Domenick Nati Show to clear the air. He said he personally heard these rumors for "years" before "this whole thing started."
"Joe ran away from the zoo. The very next day, Jeff and Lauren [Lowe] got there. I was still employed at the zoo at the time so I went to the meeting. They told us everything right then and there," he said.
"They said, 'we've been working with the FBI, Joe's going to jail for murder-for-hire'. This is months before he's even arrested. They listed everything he ended up getting charged with before this even started and [they] said 'oh and by the way, we have video of someone having sex with an animal.'"
Dial isn't sure if the alleged participants include Maldonado-Passage.
"I don't believe that is was supposed to be Joe," he said, adding "but I don't want to say a name because the allegations are salacious and I, myself, haven't seen the video."
'Tiger King' stars made no money for their appearances in the series
When asked to reveal things about the production of Tiger King fans may not know, Dial said he received no payment for his participation and signed a release to appear.
"When you work with Joe Exotic and filmmakers come to the park, you're going to be in the film and you aren't going to be paid," he said.
"We didn't get paid for this. We didn't know this was going to be this."
He addressed those who think Netflix told them what to say.
"They didn't because Netflix did not make this movie. Netflix bought this series [from the directors]."
Dial said the film had nothing to do with Netflix and it was the network that "chopped" up the footage to stream.
"I have not received anything from Netflix at all."
Dial is doing cameos and still working his "regular job" while "hoping something will come along."
'Joe Exotic' was framed, according to Dial
Many think Lowe framed Maldonado-Passage to get him out of the park. Dial agrees with that theory.
"All the evidence and all the facts are out there for anyone who wants to gather them and look at the evidence objectively," he said. "Is it OK for the federal government to entrap you into committing a crime?"
He later added he believes there was a conspiracy to take Maldonado-Passage's zoo and "the federal government played along."
Dial didn't attend the trial and 'Joe Exotic' is upset about it
Maldonado-Passage is apparently still unhappy with Dial's absence from his trial.
"He hasn't reached out to me. He reached out to me when he initially got arrested and we communicated back and forth for a while. So I know he knows how to get a hold of me," he said. "The fact that he isn't kind of speaks for itself."
That said, Dial admitted he'd never work for his former boss again.
He thought Carole Baskin was behind the filming for this reason
In an interesting twist, Dial revealed that, while filming, he thought Carole Baskin may have been behind it.
"There was one point in the filming I almost thought they were filming on behalf of Carole Baskin because of the questions they would ask me during filming and the interviews.
He said he had "anxiety" filming for several months, thinking it was for Baskin "to take Joe down."
He thinks Baskin was ultimately portrayed in the right light. Dial stands by what he said in the last 10 minutes of the series. He feels nothing in Tiger King helped bring awareness to the big cats. Instead, it gifted Netflix with a No. 1 hit series.
Tiger King: Murder, Mayhem, and Madness are available on Netflix now.
Source: Read Full Article