'Venom: Let There Be Carnage' Reaches $200 Million at Domestic Box Office
Sony sequel joins "Shang-Chi" as second film of 2021 to reach the box office milestone
In its seventh weekend in theaters, Sony's "Venom: Let There Be Carnage" is about to do something that only "Shang-Chi and the Legend of the Ten Rings" has done this year: reach $200 million in domestic grosses.
Industry estimates have the sequel starring Tom Hardy and Woody Harrelson making $3.8 million this weekend, bringing its domestic total to $202 million and putting it just shy of the $213 million that the first "Venom" grossed in 2018. Overseas, the film has grossed $227 million heading into this weekend for a total of $426 million worldwide.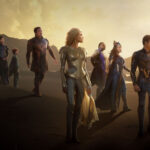 After the success of "Shang-Chi" on Labor Day weekend, Sony decided to move the U.S. release of "Venom 2" up to the start of October, one weekend ahead of "No Time to Die." That move paid off huge for the studio with a $90 million opening weekend, the largest of 2021 so far. "Venom 2" would then become the bedrock for a very strong October box office with $638 million grossed overall.
Unlike the other major studios, Sony doesn't have its own streaming service, making box office recovery efforts even more essential for its bottom line. The studio is expected to end the year in a big way with the Marvel Studios co-production "Spider-Man: No Way Home," a film that fans are anticipating will be a crossover event with all the "Spider-Man" films and spinoffs that have been made in the last 20 years, including "Venom." Because of that hype, analysts are pegging "No Way Home" as a prime contender to become the first film since the pandemic began to earn a domestic opening of over $100 million.
Source: Read Full Article