Does prolonging a life mean more than the quality of that life?
Save articles for later
Add articles to your saved list and come back to them any time.
Our dog died a couple of weeks ago. He was approaching 14, so it wasn't unexpected. He had long gone grey, his gait had slowed, his appetite – indeed, his ability to eat – diminished, as had his eyesight, he could hardly walk upstairs, and he was deaf.
He slipped away next to the bed one night. Faithful to the end. As he lay down for that final sleep, I stroked the top of his eyes, and they slowly shut. A few hours later, he was gone.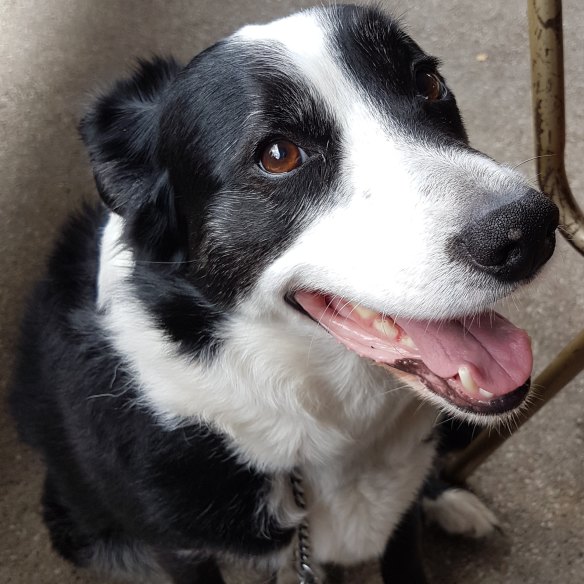 Warwick McFadyen's much-loved 14-year-old dog, Denis.
He had had a good, long life. And we had a good life because of him. His name was Denis. Our son Hamish had given him that moniker, for no apparent reason. We all laughed and liked it. (It was his turn after his sister Grace had named our other dog, a male Labrador Sophie, on the reasoning that Sophie could be a boy's name, too.) Hamish died almost four years ago. Now, with the dog's death, another thread to that past has been cut.
Did Denis know what was happening? Who knows? After all, he was a dog, not a god. But if dogs knew of a thing called dignity in death, he'd be wagging his tail. He'd be happy maybe not in the end, but in his manner of ending.
It's said that some animals know of their time of ending, that they go off alone to find a spot to shut their eyes forever. Denis did wander around the rooms, bump into the walls. Was he looking for his spot? In the end, he found it next to our bed. He was with us.
His dying occurred just as debate and correspondence surfaced in The Age on the experiences of people dealing with relatives who have or had dementia, and who wanted there to be access to Victoria's voluntary assisted dying legislation. A common thread was this question: did the prolongation of a life mean more than the quality of that life? It goes to a person's place. When the sense of self – indeed the self – has vanished, where and what is their place in the world? Does life then have meaning? Who should decide this? Surely, many with profound and heart-wrenching experience of this should have a say. Death can occur when the person is still alive.
Several years ago, my aunt died. She had motor neurone disease. One clear fine afternoon, I visited her in her nursing home in Newcastle, as it happened not that many months from the end. She was incapable of movement, but for the twinkle in her eyes, and her lungs rendered sound without definition. She did not have dementia. I could see she knew who I was. I talked to her. (My cousin, her daughter, would sit and read to her for hours.) I stroked her hair and scalp, gave her a kiss on the cheeks. She replied in a low gurgle and moan — sometimes it changed pitch, went a bit higher into a wail. It was heartbreaking.
I walked back to my car, shaking and numb at the same time. Seeing her trapped in her chair reminded me of Edvard Munch's The Scream. The afternoon was now shaded grey. I sat behind the steering wheel and thought this was the end of a life, and yet it wasn't. She had her faith. Each breath was life, after all, and yet it wasn't the inhalation and exhalation of life.
Choice, at times, can be a luxury. We kid ourselves to think we have everything under control. Surely, though, when terminal illness calls in its cruellest way, those who it has visited can have that choice of taking that ride, to be with us or without us.
Most Viewed in National
Source: Read Full Article